Memories of the 1953 floods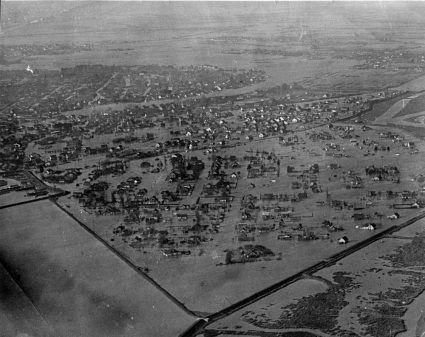 We went to bed at our usual times; myself, my ten year old brother, my parents and my visiting grandparents.
Sometime in the night my parents were awoken by our neighbour, an old grumpy seafaring man called King. He reckoned the sea wall would be breached and advised my parents to be prepared. My father and grandfather spent the rest of the night moving all the furniture that they could, including my mother's precious piano to the 2 upstairs rooms in our chalet bungalow .
We lived close to Thorney Bay with a drainage dyke running at the bottom of our sloping garden so would be quite vulnerable.
My first recollection was seeing the sea in our back garden and not being able to understand why I couldn't go out and play in the water. My parents were preparing to evacuate whilst the roads were still passable. My father loaded us all into his van ,along with the dog and a few possessions. The cat sadly had run in terror and later perished and the budgie was just let loose and presumably also died.
We were directed to a village hall, I think, in Benfleet. My father made many trips back to the island, ferrying many people to safety until he was refused entry due to the worsening conditions. I remember being given some navy knickers and a pretend car steering wheel from the quickly organised 'flood fund'.
We made our way to London where we went to live with my grandparents for the next 6 months. My Dad had to carry the dog on the underground escalator and the terrified creature wee'd all down one of his few pair of trousers. To make matters worse, preparing for work the following day, my Dad found he had grabbed one black shoe and one brown one.
We returned to our house 6 months later and spent most of the next year living in the two upstairs rooms while trying to restore some order to the downstairs.
Not life threatening recollections but these small details have stayed with me for the last 70 years and have affected where I subsequently lived. Still on the East coast and still near the North Sea but always on high ground and always with an escape route if needed.