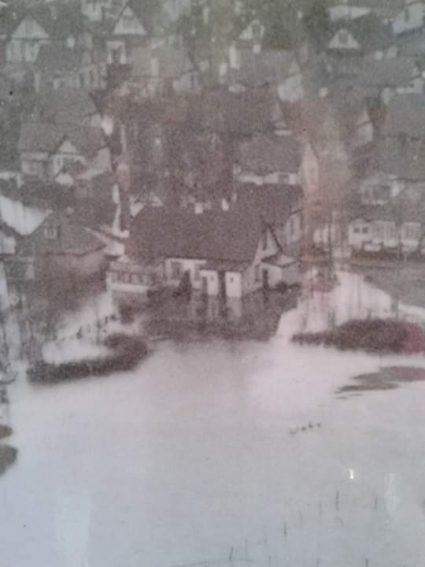 I was three years old, we lived in Welbeck Road. I remember mum (Phyllis Owens) coming into my room in the morning and telling me the sea had come to see us. It was so exciting. There were swans swimming in our garden and our conservatory was flooded. There was a food safe in the conservatory and mum opened it to see a saved christmas pudding and other food bobbing out of the back door. The tide went out and mum began to clean until grandad pointed out that the tide would come in again.
As we were on higher ground there seemed to be no hurry to get us off. However by the second evening mum stood at the kitchen window and signalled SOS with a candle and a packet of tide. We could see the Long Road from our kitchen and we heard voices shouting to us from the Paddocks. They asked mum to go to the front door so they could see where we were.
We had to wait until morning then a rowing boat came along and I was carried out. The boat then took us to Runnymead Road where an army lorry was waiting to take us to Benfleet.
From there mum, dad and I went to London to stay with an aunty.