My flood memories
at three and half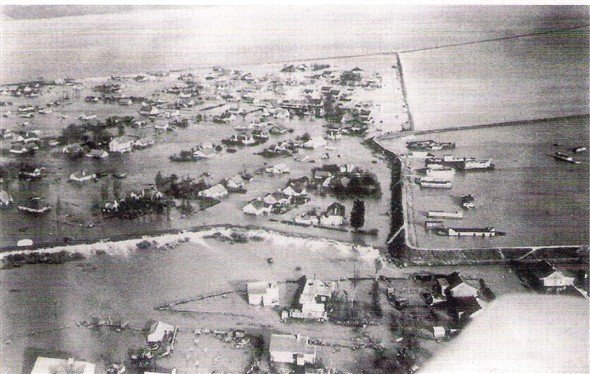 My older brother Robin and I used to play with Dad's rubber covered torch when lying in the otherwise dark bedroom. We'd use it to illuminate the huge spiders that from time to time would trundle across our bedroom floor. Robin was 5 and I (Douglas) was 3 and half in the winter of 1952/3. We lived in a rented wooden bungalow (I think it was called Gosaleese) in the Winter Gardens on Canvey…Mum and Dad were building a little cottage, which they eventually called 'Gull Cottage' nearby in Mornington Road (I think it is now number 44.) Dad had been a Lancaster bomber Navigator in WW2, a prisoner of war, an escaped POW, and then through his own efforts at evening school, a draughtsman. Mum a trained opera singer, worked for the Great Western Railway when she met dad shortly after the War, and having gone out on one date, they got married.
Robin and I were in our bedroom, asleep and afloat on our mattresses and the torch alight on the floor under a few inches of water. Next door, Dad put his foot out of bed needing to use the loo. The floor was under water, he cursed thinking a pipe had burst, and then pulled the curtains back, where he saw water racing across the garden and rising. He shouted Mum who discovered Robin and I afloat and asleep. She grabbed us and stood us on the kitchen table and wrapped our dressing gowns around us. My parents both realised the sea wall had breached and the island flooding. There was a ladder outside and a hammer in the shed. Dad went out to get them, and the water was rising so quickly and running so fast that he could only get back into the house by Mum pulling him in on the end of the ladder.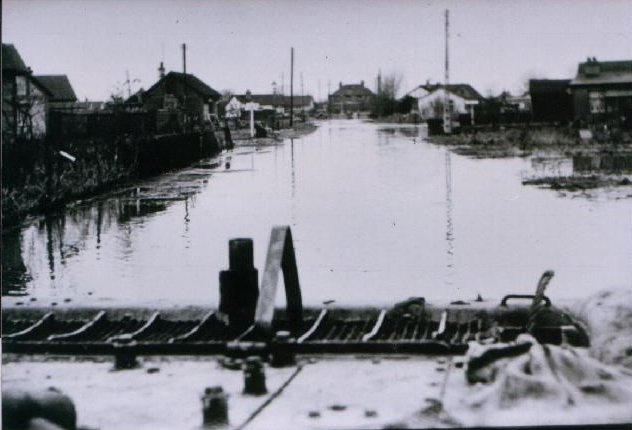 Dad got us into the loft, and smashed a hole in the roof with the hammer, big enough for us to get out onto the roof. But the wind was so strong, he was worried that we would blow off the roof. Someone had left a metal trunk in the loft which we only discovered that night, in desperation Dad opened it, and there were some puttees inside, the sort that first world war soldiers used to lash round the tops of their boots. And he used these to tie us to the chimney, where we spent the rest of the night.
All the preceding is what I have been told. Here is what I remember: I remember playing with the torch, and then nothing of the following night. I remember the following morning sitting in a rowing boat, and asking 'Mummy what's that in the apple tree?' to which she replied: 'Oh it's just some old clothes darling'. It was in fact a body. I remember being carried along a sea wall, and water was flowing from one side to the other through a clay pipe. I remember being somewhere very warm and being given a hot drink, that was a houseboat and the drink was soup. And I remember being on a coach going somewhere. The coach took us to Benfleet where we were offloaded, the family in pyjamas and dressing gowns, with nowhere to go.
And that's the extent of my memory at that tender age.
From that point, my mother commandeered a taxi, and asked the driver to take us to Whitchurch in Hampshire, where her father owned the village bakery. The taxi driver was very kind to us and bought us tea and sandwiches en route. Grandad, when presented with the bill for the pounds and pence that it was, was extremely grumpy as he hadn't listened to his wireless that morning. When he heard the news he was contrite. We lived with him for 6 months, and then returned to Canvey where our new little cottage was nearing completion.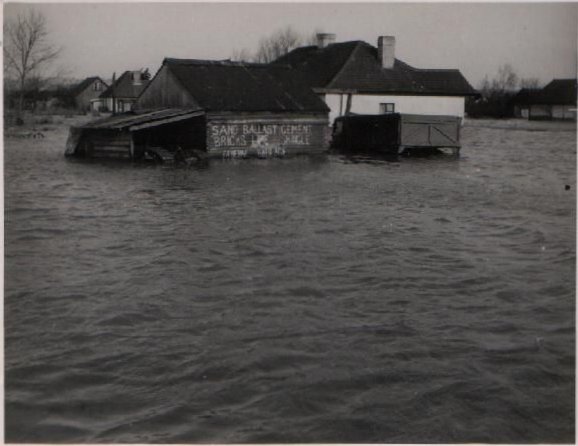 My parents told me that during that dreadful night on the roof, they could hear people screaming for help and saw bodies in the water. We were rescued by a man in a row-boat, and did indeed walk along a sea wall to a houseboat. At some point we were led to an army coach and driven to Benfleet. Some years later when I was a pupil at St. Thomas Moore High School for Boys in Westcliff, a message came round all the classrooms for all the Canvey Boys to assemble in the Hall as we had to go home straight away. Thinking he was being witty, our Geography teacher commented. 'Oh, the island's probably sinking'. Think what effect that would have upon a child who'd survived the floods! It turned out that there was thick fog on Canvey, and as we all had to walk home from Benfleet, that's as far as the bus took us.
I was born on Canvey in 1949 and grew up there, and have fond memories of the place. I now live on the Isle of Harris in the Outer Hebrides…once an islander always an islander…and coincidentally, I live in a little cottage called Gull Cottage. I'll write again with some of my fond memories.