My memories on the night of the flood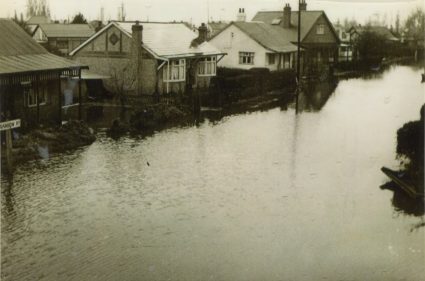 I am the son of Denys Cook and I was nearly 3 on the night Canvey flooded. My dad woke me and the water was up to my mattress, he opened the loft hatch and put me up into the loft, he then managed to get my mum in the loft after quite a struggle as she was heavily pregnant with my brother Andrew.
We sat looking down through the open loft hatch watching the water level rise up the wall. It was Dad's birthday the next day and his cake was in a tin on top of a kitchen cabinet, somehow Dad managed to reach it and we sat there eating the cake which had white icing and cherries on top.
Dad punched a hole in the roof and the next thing I remember is being put into a rowing boat with Mum and being rowed away, leaving Dad sitting up on the roof in his pyjama bottoms and a green jumper. We lived in Rainbow Road and were taken by boat to the High Street and put into an Army lorry and taken to a school off the Island.
My mum and I then went to stay with my Grandparents in Chingford while my Dad stayed behind to try and sort out our home and get it habitable again. I am now 72 and still live on the Island.