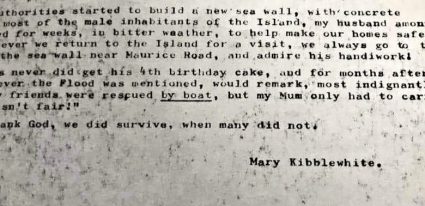 This story has been sent to us by Ben Kibblewhite. It was written by his grandmother Mary Kibblewhite whom along with her husband Charles ran a restaurant in the High Street in the 1950s.
It was Saturday, 31st January, 1953. All day a northeasterly gale had blown with terrific force along the East Coast of England. At the time we had been living on Canvey Island for five years, in a small restaurant in the High Street, as my husband , being a qualified Chef, had decided to open his own little business when he was demobilized from Her Majesty's Forces. Our son Douglas was then approaching his fourth birthday.
One of our regular customers, whom we'd nicknamed 'Apple pie' – because he always, day in, day out, had the same sweet after his lunch -, had not been very well, and because he was approaching 80 my husband had taken his lunch up to his bungalow in the ill-fated Lakeside area of Canvey Island. The old man had mentioned his need of new warm underclothes, and on this particular Saturday I had battled against the wind, with Douglas in the pushchair, up to the old chap's home with his new underclothes we had bought for him, and as it turned out we were very glad 'afterwards' that we had done so.
We went to bed about 10.30pm that night, and my husband Charles started to read a book about a man who bought a small hotel. This man had had all the same problems that we had had, with Catering Licenses, rationing of food (which had not ended automatically in 1946 with the end of the War), Bus (bread units), points, shortages of cigarettes to sell (the popular brands were limited to 100 a week for our shop), and endless forms to fill in. Eggs could not be sold in restaurants unless you kept chickens to lay them, so we had six very friendly, brown hens, which we kept in a run at the side of the shop.
At about midnight, Charles put his book down and promptly fell asleep, and soon afterwards I roused to hear the air raid sirens warbling and, of course, thought nothing of it except that somebody had accidently pressed a wrong button. Them there were loud bangs, and I thought 'Rockets!! There's a ship in distress'. I was then aware of some loud shouting, above the sound of the wind which was still howling like a banshee. The shouting faded, and I thought it was merrymakers on their way home after a party. I went back to sleep.
About 1.30am I woke up to hear Douglas calling me. He was in a bedroom nearer the front door, and could hear somebody knocking loudly and calling to us. I leapt out of bed, saying to my husband "There's trouble out front, perhaps there's been an accident follow me out won't you?" I went through the bedrooms, down one step into the living room, straight into about nine inches of stonecold water. That did wake me up! I could hear the water still coming with a dreadful sound of 'Glub, Glub, Glub' through the French windows at the side of the passage. I said instinctively, "My God: the seawall's gone". I paddled to the front door where one of our neighbours was waiting to tell us to get out quickly as we could, as the Island was flooded. We threw on some clothes, and went to a Church Hall along the road, which was luckily on higher ground, and waited for morning.
When daylight dawned on that Sunday morning we went back to our home, and what a sight it was. The High Street itself was luckily for all of us, above the water line, and we were later to thank the powers thet be who had built all that main road leading off the Island at such a level, as it was only flooded at one point. There was, of course only one road onto and off the Island, across a swing bridge.
Our premises sloped down from the road, and the water got deeper as we went into the shop and through to the kitchen, where we had two feet of water. The long coconut mat we had down the centre of the shop was floating (with humps like the Loch Ness monster) and our poor cat was sitting huddled on a table. She jumped from one table to another to reach us. The chickens we found huddled miserably up on their perches in the henhouse. But it was the kitchen I shall ALWAYS remember! Everything was floating about and bobbing with every movement of our feet, there were carrots, onions, potatoes, tins of food, saucepans, even coal and coke had washed in. It was even unfortunate for us that Saturday was delivery day for all our groceries and supplies and everything that was stuffed under the benches and tables was either floating, or lying in sodden packets.
We were told to evacuate as soon as possible, as the next high tide was thought to be another danger. For people who had no relatives or friends to go to the new school at Shipwrights Drive had been opened as an emergency Centre. Luckily, we had my mother, living as Rotherham, to go to, and after hurriedly throwing more clothes for Douglas into a bag – we didn't stop to pack for us – I tucked the cat, Susan, under my arm, and our grocer friend took us in his van to Benfleet Station. When we got into a very crowded train for London Bridge, our carriage contained a very motley assortment of evacuees, including two dogs and another cat. The animals seemed to know it was an emergency and they all sat without a snarl or growl, for the whole journey. We had made arrangements before we left for our neighbour in the fish shop to take our hens to stay with him and his own chickens, on higher ground at the Leigh Beck end of the Island.
When we reached London, we crossed to the next train, and then a bus to my mother's house. The only unpleasantness we had encountered happened then, when the conductor of the bus flatly refused to take Susan on his bus because she was not in a basket. We tried to explain, but he hadn't heard of the emergency and I finished up walking to my mother's house with Susan, while my husband went on with Douglas and the bag.
After three weeks it was deemed safe for us to return, but we left Douglas with my mother for another few weeks as our premises had to be thoroughly cleaned and dried out first. As we entered, the scene in the restaurant was unbelievable! The water had receded slowly, and left a thick layer of filth and silt over everything. My husband hosed the shop floor five times before it began to look even presentable. I started in the kitchen, and scrubbed it again and again, after of course, picking up all the sodden food and vegetables, and dumping them outside. We were told to try and assess our losses, but this was virtually impossible, as our furniture and carpets in the dining room were all soaked, and everything in the lower drawers of my desk and sideboard were sodden and ruined. For weeks afterwards I found myself going to theses drawers to take something out, and then thinking 'Oh: of course: the flood'. I even unthinkingly went to switch on our portable electric fire to dry out the rooms, and wondered why it would not go. After being soaked two feet deep in seawater it was no wonder.
The flood water left a mark on the outside of the oven door, and this we left for a while, because when we opened the shop again six weeks later, and all the sightseers came in for a cup of tea, and to gawp at us all, I was able to point down the passage to the oven and let them see for themselves. I did have at least one lady very disappointed over my explanation and she said "Oh! didn't the water come right up to your roof?". Controlling my real thoughts, I explained that if it had, I wouldn't have been talking to her then, as we had no way out of our shop on to the roof. A large number of the inhabitants in the Lakeside and Newlands areas, and most of these were older, retired people, had had to climb out onto their roofs on that bitter Saturday night, and sit or stand there, until they died, or were eventually rescued by boat, hours later. The ones that perished were washed out to sea, and the number that died was never really known, because the bungalows had been built so haphazardly as holiday homes, and people retired into them, or spent weekends there, so a final figure was impossible. One baby, a girl, was found floating in her pram, and was rescued by boat the following day, but her young parents had been drowned.
We found out, after enquiries at the Rest Centre, that our old friend 'Apple-pie' had been reached after three days, as his bungalow was on a place of higher ground, and he had found those warm underclothes really useful while he was waiting to be found.
Of course, there were enquiries into the tragedy: why had we never been told that the air raid warning, or the rockets, meant trouble? The shouting that I heard had been from the people on the roofs who were the first to be flooded in the Newlands and Lakeside areas when the sea wall first broke beneath the sheer weight of water. The north-easterly gale that had been blowing all day had prevented the tide from receding, and when the night tide came in again, with gale force wind behind it, the water swept over, and through, the old sea wall.
The Authorities started to build a new sea wall, with concrete slabs, and most of the male inhabitants of the Island, my husband among them, worked for weeks, in bitter weather, to help make our homes safe again. Whenever we return to the Island for a visit, we always go to the section of the sea wall near Maurice Road, and admire his handiwork!
Douglas never did get his 4th birthday cake, and for months afterwards, whenever the Flood was mentioned, would remark, most indignantly, "Yes! ALL my friends were rescued by boat, but my Mum only had to carry ME out; It isn't fair"".
But, thank God, we did survive, when many did not.