The Night Canvey Flooded
1st February 1953
That night was particularly cold, a storm with sleet in the high winds freezing you might say, not a night to be out.
That evening I and my two brothers were at home in Labworth Rd, our mother had gone to a meeting at the new War Memorial Hall, and a neighbour sat in with us untill mum returned home later that evening. Our dad was not at home with us as he was a bulldozer and road roller driver and was working away on a construction site in the midlands.
I was ten years old, my brother Graham nine years and Trevor was five.
Bedtime came and I remember having trouble getting to sleep, it was so noisy outside, there was banging and rattling due to the high wind. Strangly there were lots of dogs barking, and I could not remember hearing that many dogs barking at night even despite the storm, I called out to my mother asking, "why are the dogs barking?" she said "go to sleep it's just because of the storm".
The next thing I remember was mum telling Graham and I to get up and get dressed quickly. The time was about one in the morning. I could hear people outside in the road talking loudly. Then there were some loud bangs from outside followed by the fire siren, in those days the local firemen were called to the fire station by the sounding of a loud siren. The siren was tonight different, the sound went up and down, not the usual steady note. Mum went outside to see what was going on. Our next door neighbour, Mrs Hood, shouted across to mum, "There's a flood, get those children in here". Our bungalow had no upstairs of course. Mum got five year old Trevor dressed and told me to run in to next doors house and don't stop to look down the garden. Well of course this ten year old wondered why he should not look down the garden, our back garden sloped down to the back fence, behind which was a muddy dyke. The dyke and now the garden had turned into a river, there was fencing, bits of shed and all sorts of stuff rushing past as the garden was quickly filling with flood water. I then ran very fast into next doors house and was sent straight upstairs followed quickly by Graham then mum with Trevor. Thanks to our neighbour we were now at least safe.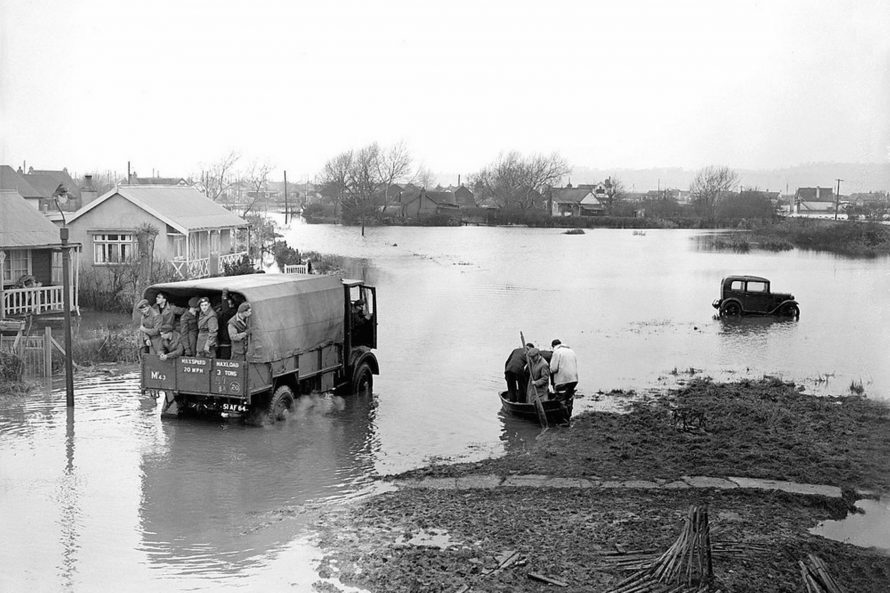 Mum later told me that men in the street were shouting The walls gone. The loud bangs were from the army base at Thorny Bay, and they were firing anti-aircraft guns in order to wake everyone up, which was also the reason for the siren.
Mum also later told me of an elderly neighbour attempting suicide. He had heard the siren, the guns going of and the men shouting. He misunderstood the men and thought they said "The wars on". He had witnessed two world wars and was not facing another. He went to gas himself but turning on the gas taps in the oven, he was suprised to get his face soaked, the water had flooded the gas supply. Mum insisted the story was true.
We were marooned upstairs in our neighbours house for 3 days and nights. The first morning some of the local men were wading up and down the road asking if anybody needed help, and mum asked one of them if he would enter our bungalow and find her handbag for her. That was Mr. Bishop, a local greengrocer, who lived close by, and he readily agreed and found her bag for her.
I spent a lot of time looking out of the bedroom window at that strange scene. Water was everywhere, I could see by the water level that our home was flooded. A local man attempted to rescue Mrs Hoods cat that was stranded on top of our coal shed, as he waded closer the cat jumped in and swam to the house. Thats the only time I ever saw a cat swim. Graham remembers Mrs Hood making us a meal of beans on toast, something that was new to us at that time, she then had no gas or electric of course but did have a solid fuel stove, which proved to be a real bonus. Every day there were helicopters flying over the house taking pictures for the newspapers and we would wave at them. We were told by neighbours that we were going to be taken off the Island by Army soldiers who had suitable lorries that could manage to drive through the water.
Later that day the soldiers arrived in the road and filled each lorry with as many people as possible. They had found that they could travel on the main roads in order to leave the Island. Travel was helped when the water level went down a little as the tide went out.
Graham remembered that later it was found that the lorries damaged our narrow roads because the flood water had eroded the foundation beneath the concrete, the concrete simply broke up due to the weight of the vehicles. Later after the Island was getting back to normal the cracks were filled with tar, which left uneven roads criss crossed with meandering black lines, examples of which can be seen in some of the older photo's of that time.
We began to hear that lives had been lost at the back of the Island in the Newlands area, and that was where the sea wall had been breached by the storm. Mum was worried about a good friend of hers who lived in that area. She was later to learn that her friend's husband had died trying to get his family to safety.
We were taken to the new school in Benfleet. There were people providing blankets because we were going to be sleeping on the floor of a classroom for a while. Several families shared a classroom and we all had meals provided from the school canteen. Local people began to donate clothing and other items. We had only those clothes we had been wearing for three days and were grateful for the few extra items donated.
Mum was not able to get in touch with Dad. In those days few people had telephones in their homes and of course the mobile was unheard of. Mum did not know exactly where Dad was working and had to wait until he was able to find us which she was sure he would do just as soon as he could.
Dad's account of his experience at that time.
Sunday morning Dad went as usual to the works canteen for breakfast, sat down with his meal next to a work mate who was reading the Sunday paper, the headline read in large letters, "CANVEY ISLAND FLOODED MANY DEAD".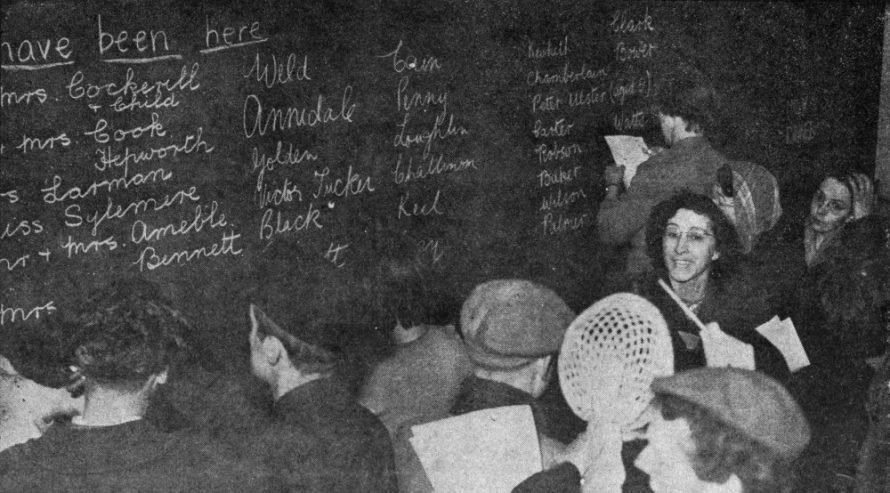 Shocked, he left immediately and travelled by train to London then to Fenchurch St. and on to Benfleet station, he eventually got to Benfleet bridge that evening, only to find police not allowing anyone to cross onto Canvey. He was told all residents were being rescued by the army and that he should go to the local evacuation centre, at the new Benfleet school, where his family are likely to be taken. He hurried to the evacuation centre and went straight to the reception desk, where he was told they had no record of his family arriving there, but he could stay at the school and maybe his family would arrive in the next day or two. He slept in a classroom like we all did and on Monday morning began his search for friends and neighbours who may have knowledge of our situation at home. Tuesday there was still no news. It was Wednesday morning when he went to the boy's toilets as usual and met Keith, a boy who was a near-neighbour in Labworth Road. Keith told him we had arrived last evening and were sleeping just two classrooms away from his. To his great relief he had found us.
Apart from the many helful donations coming in there was also an appeal for volunteers who could provide temporary accommodation to the now homeless Canvey Islanders. Graham tells me that he remembers those of us that needed somewhere to stay were asked to put our names forward when suitable accommodation was offered and a draw would take place to allocate families to volunteers. When the time of the draw arrived a small boy was asked to make the draw. That boy by chance was our young brother Trevor, who by chance drew our name out! The draw invited us to stay with a family in Redbridge, Ilford.
Dad returned to work in the Midlands again and mum took me, Graham and Trevor to stay with the kind family in Redbridge. I remember having to go to school there and found the new school difficult. I cannot remember how long we stayed in Redbridge, but I do remember mum and I travelling back to Canvey to inspect the damage after the flood water had been drained. The bungalow was a real mess. The marks on the walls showed that there had been about a foot of water in most of the rooms but the kitchen was three steps lower at the back of the bungalow and suffered about three feet of water damage. Large lorries were going from house to house and feeding warm air via large pipes into homes in order to assist drying out.
We eventially returned home and life started to return to something like normal. I went back to school. Each day in school there was donations from far and wide of fruit and sweets for us kids. Some of the kids never turned up at school, we were not told why, but I believe many families did not return to the Island, deciding to move away. As a ten year old I was nearing the exam time, the 11 plus. One day our teacher announced that our class had not reached the required standard needed in order to sit the exam, as we had all missed too much education. Arrangements that were talked about was an alternative exam at age 13. I never did sit the alternative.
That's my memory of events at that time, later we were to learn the full extent of the distaster. Neighbours in the street that night had provided us with some warning of the arriving flood water. The one foot of water in our bungalow was little as compared to that of those families living in the Newlands area, water levels there were considerably higher and since they lived close to the breached sea walls they had no warning at all. Fiftyeight people died that night on Canvey. As compared we were to some degree fortunate.