A Town in the Sea
A Community Play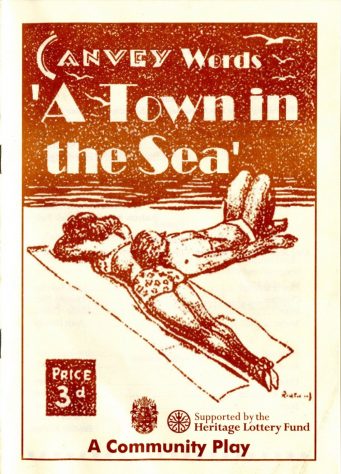 A copy of the programme from the play 'A Town in the Sea' A Community Play put on by the people of Canvey to commemorate the flood of 1953.
The Project
Castle Point Borough Council received a grant from the Heritage Lottery fund to create a community archive of local people's stories. Emily Redgate, Community Development Officer (Arts) for the Borough has been project managing 12 Ft Under from the initial stages of the project. In October 2004 Luan Blake and Marion Duggan from Ragroof Theatre were employed to write and direct the play as part of this larger project. 'A town in the sea' is the community play made in response to local people's memories of the floods on Canvey Island in 1953.
Community meetings, coffee mornings and school and youth club visits were set up to gain involvement from a wide range of the community. The response was amazing, and it seems everybody has a story to tell or a memory to share. These meetings highlighted how many untold stories there were in the community and also showed other issues that the project could address. Bridging the gap between different generations and developing ideas that they have all enjoyed creating together has been one of the crucial elements of the project.
In the meetings that took place it became clear that although this was a play about the floods, the emphasis on community spirit, strength and hope for the future was important for all.
~~~~~~~~~~~~~~~~~~~~~~~~~~~
Click on the pictures below to see enlargements.