4 - Barry Blackwell's Canvey Memories
Part 4
Well time seemed to go slowly in my last year at Long Rd Primary, (1951- 1952) as I was one of the big kids in the school and felt quite grown up, but the time is  coming when I was  going up to William Read School and would be one of the youngest. I remember not looking forward to it as some of the stories I heard that happened to the first year kids was scary, like the big kids taking all your clothes off and making you run round the play ground, but if you were one of the lucky ones you would just be thrown in the ditch (that always had water in!) this was the one went through the school grounds. It was the same ditch that ran down from the lake at the top of Denham Rd, it ran at the back of the council estate under the Long Rd by Jones stores then went at the back of the old War Memorial through the school grounds and made its way down to the sluice gates by Thorney Bay. Many of the dykes were connected and went into the River Thames this way. The time had come for me to say goodbye to my primary school and all my old teachers.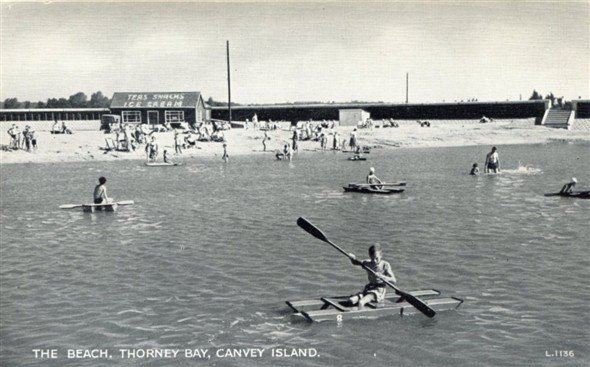 I had all the (1952) summer school holidays not to think about it, as we always had plenty to do in the summers back then and they seemed endless and always hot, so most of us kids would have spent a lot of time down the beach. I liked going to Thorney Bay as there was so much sand  it would go halfway up the old seawall, also there was a beach cafe where you could get Ice creams, teas, cold drinks etc, (tizer and cream soda were my favorites) also you could  hire deck chairs, and  buy buckets and spades that were made of metal and would last all summer. Mr.Grout had the beach cafe and later had a bakery in Furtherwick Rd, near the London Coop Society grocery store and milk yard. (Iceland now stands where L.C.S. grocery store stood, and their car park is where the old milk yard stood, before being moved to the site behind the Westminster Bank in the High Street.) Also there was a bathing pool for all of us  to play in when the tide went out, it wasn't too deep (approx. 3ft ) so it was safe for us kids to jump in and wash the mud off after playing in the bay  at low tide.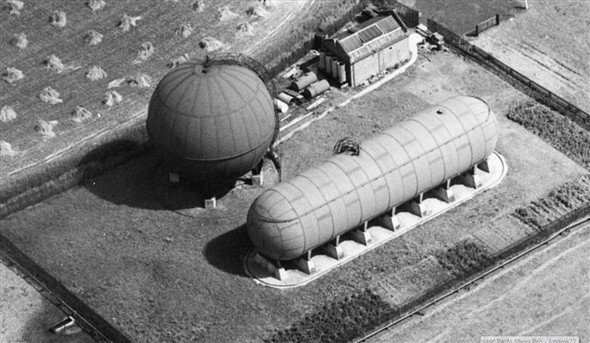 I believe Col. Fielder built the first wall across the bay not only for the locals but also for the holiday makers that stayed at his Thorney Bay Camp.  I'm not sure, but I think it was upgraded by Canvey Council after the floods of 1953. I would have gone eeling with my Dad and Uncle Son and my cousins John and Derek, as we spent a lot of time through the summer months fishing in the dykes that ran at the back of Thorney Bay Camp and down to the gasometers. Our Dads would make our fishing tackle out of a piece of bamboo cane, a short piece of string, a cork from a bottle, a quill from a chickens feather and put a hook on the end. We used home grown garden worms that we got by covering wet sacks with soil and grass clippings and keeping it damp, it was one of my jobs to make sure we always had lots of worms at eeling time. We had a big back garden in North Ave with a chicken pen at the bottom, so I would keep the worms behind the pen out of the way, we always had enough to give our pet hens a handful as they gave us lots of nice eggs. There were not too many times that we didn't come home without eels in the bag for my Mum and the neighbours as my dad and I didn't eat them, but loved catching them, and some were very large.
Well the summer holidays came to a end and it was time for me to go up to William Reed School, I was now eleven so I was too big to let my Mum take me but I was lucky to have my big sister Sylvia that was already going to William Reed, so she let me walk down North Ave with her on my first day to my new school, and every day until she left.