7 - Barry Blackwell's Canvey Memories
Part 7
March 1953.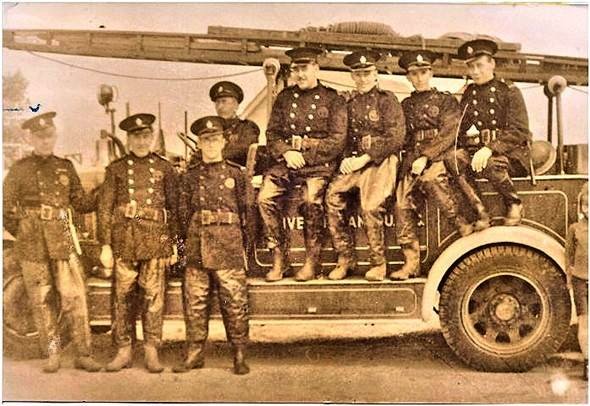 Now back home on Canvey with my family and looking forward to getting back to normal, we were  lucky at 54 North Ave as the water stopped at the back door and we only had to replace the lounge carpet because of the dampness that had come up through the floor boards,  the carpet was donated, and delivered by Pickford's a big trucking company, I can remember the truck was full from top to bottom with carpets  just about every house on the council estate at that time had their carpets replaced most homes had to paint and wallpaper down stairs walls as the damp had got into them in some of the homes the council had  a lot of repair work to do, owing to the amount of water damage.
It was good to get back to School and see all my mates, but sadly there was one the whole of the class would all miss badly for a long time , (Michael ) he was one of the casualties of the terrible floods. (I don't think too many old Islander's will ever forget the floods of 1953)
One of the big events of the summer of 1953 was the coronation of Queen Elizabeth, I can remember there being Union Jack flags everywhere you looked, even the big stuffed bear that stood outside Jones's Stores (top of Craven Ave now a super market) was wrapped in a big flag. I think all the shops on Canvey had red white and blue flags somewhere in them, there was so much unity back then in every way!! I can remember there were street parties going on down most streets, we had a one in North Ave most of our Mums made sandwiches and cakes and our Dads set up the drinks and food tables. The biggest street party I can remember was the one down Leigh Rd where my Nan lived (number 2). Think it was a good time that we all needed to cheer everybody up a little bit that year after all that had gone on at the beginning of 1953.
I remember some of the kids at school where chosen to go to one of the schools off the Island to a big Coronation party they went to represent Canvey all the schools in Essex were represented, Jill Blackwell (nee Phillips) was one of the kids from our school that was chosen, and was presented a  Coronation medallion to commemorate the occasion (we still have it), I think the rest of us kids were luckier as we had the day off from school!!
Moving on in the early fifties I remember asking my Dad if I could get a job as a paper boy as I wanted to get a new bike. I did have a bike but it was that old (at the time I must have thought it was the next model  up from the penny farthing!!) he said I could as that was the only way I was going to get one as on his pay as a milkman he couldn't afford to buy me a new one. I was in luck as my sister Sylvia and both my cousins John and Derek (Blackwell) delivered papers for Tremains on Furtherwick Rd next to the Rio Cinema so I did get the job.  I think I got paid about 8 shillings a week and had to get up at 6 am to deliver the papers my round started at Runnymede Rd down to Craven Ave. I also had to deliver to the people that lived in the permanent caravans at Fielders Holiday Park and the Army Camp at the end of the camp by the sea wall before I went to school.
I saved up enough money for a deposit then I  bought my new bike from Canvey Cycles in the High Street, (it was the old florist) on the opposite side of the road was the Canvey Service Station and alongside that was the Hazel Fisheries.  I believe my Mum and Aunty June both worked  at the fish shop at  some time (there is the shopping centre there now). I paid 12 pound for my bike and five shillings a week until it was paid for, my Dad had to sign as the guarantor, it was a Raleigh purple and white with 3 gears perfect!!
I also got a job at Shillums it was a green grocery and grocery store, I was a delivery boy, on a Friday night and all day Saturday it was in the row of shops that ran from the corner of Warden Road to the start of Lake Side Path (opposite where Barclays Bank is now). When I was not delivering groceries on a trades bike I would work in the shop, (the bike had a basket and two metal legs on the front to stop it falling over). I was paid 10 shillings a week, later on in the school holidays a class mate of mine also worked there, Brian Marsom, he was in my class at school one of our jobs was to sort out the grapes that were delivered in barrels, and covered in sawdust (yum yum wop's) things were very different in those days but we still call them the "good old days" and we always will.