9 - Barry Blackwell's Canvey Memories
Part 9
Early and mid 50s
In my episode 8, I wrote about some of my memories at school, but as we all know when you are a young teenager there is so much more than just going to school, there were lots to do, and lots of things to learn about in this big world of ours. I think life seemed to go at a slower pace for me back then there wasn't  too much pressure put on me to do things at home, it was the way of family life to help around the house. I knew what I had to be done as did my sister, we had our jobs to do inside and out, like keeping our rooms tidy, doing the dishes after meals. I had to help with the garden and my sister had to help my mum with the house work and the shopping. I would have thought sometimes that my parents were being a little hard with me, but later on in my life I realised how lucky I was to be taught by them in the right ways and wrong ways of living life to the full, and there was no better place to live it in those good old days but on Canvey. As a young teenager I was allowed to stay out and play until about 8pm in the summer, and in the winter months I stayed in and sat in front of the coal fire, and watched our black and white 16″TV, it was only a 12″ but my dad put a magnifying glass on it!!  We also could have colour as my dad would put a piece of plastic behind the magnifying glass that had green on the bottom, red in the middle and blue on the top, (didn't look too good when the black and white minstrels were on!!) colour TV in the early fifties – how bad was that!!
There were so many council house kids there was always something going on in North Ave up on the green at  the top of the road (soccer on  the Crescent) and over the gun site by the old Army Camp, like tin can alley or knock down ginger, football and cricket. I think most of the Canvey Island football team would have lived on the estate at that time, it was a good place to be brought up and live as most of the kids were good mates, and so were most of  the grownups, just about everybody knew everybody that lived on the estate at that time.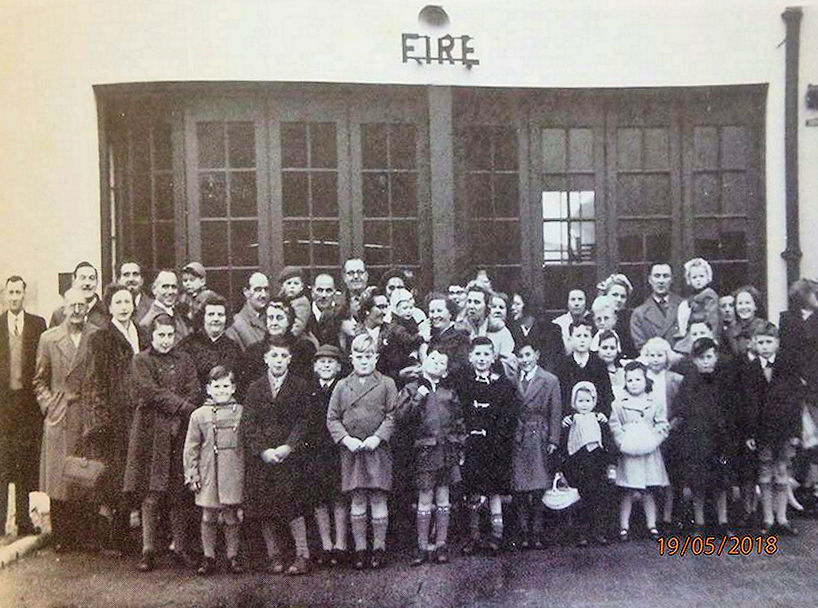 There was always a lot of excitement around the place when the fire sirens went off, and the bells in our house rang, as my dad was a fireman, which relates to some of the jobs to be done by us kids. I know when I was around it was my job to hold open the front gate at No 54, my sister or my mum (if they were around) would get his bike out from the back yard. My dad would be getting his fire tunic on and his bike clips for his trousers, then out the front door and on his way to the fire station on his bike, as were all the other firemen that lived on the council estate if they were home at the time. North Ave was like a race track at those mad moments, there would be no cars parked in the road outside the houses as not too many people had a car in them days or owned one.
Some of the firemen were George Blackwell, Sonny Blackwell, Geoff Barsby, Johnny Whitcomb, Arthur Edwards, Mickey Saunders, and Ron Bird. All the firemen were part time, at that time there were no full time fireman on Canvey, due to the small population, in the case of a big fire the full time brigade from Hadleigh had to assist. When the fire sirens sounded you would see all us kids – some running and some biking up to the fire station that was on the left hand side off the council offices,  the ambulance station was on the right hand side. (now the Health Centre etc) Just about every kid on Canvey that saw the fire engine going to a fire would try and follow it, (or it seemed that way) as it went down the road ringing its big bell that was on the end of a hand pulled rope! I think two of the worst fires that my dad went to were a houseboat in Benfleet creek that caught fire and two little children lost their lives, it was a very sad time for all the fireman that attended that fire and my dad for weeks after (I believe he helped carry one of the children to the ambulance), and the other fire was when Cox's Hotel down Seaview Rd caught alight and was just about destroyed.