Bill Gower's Recollection of the 1953 Floods
The First Flood Baby
A short while ago the CCA was able to publish Bill Gower's memories of growing up on Canvey in the 30's, published in Susan White's book 'A History of Canvey Island, Five Generations' in 1994.
I recently met up with Bill and he told me some more about his life on Canvey. I think his recollections of the time of the 1953 floods are worth special mention.
Bill told me:
"When the flood came we were living in Leigh Road, near the junction with Furtherwick Road. We had one child at the time and my wife, Ellen was heavily pregnant. Anyway on the morning of the flood the water was coming up and up the bungalow and I thought 'I've got to get them out of here!'  I had a Dormobile type van which was in the field alongside the bungalow, so I pulled it alongside the house door and got a ladder and put it between the step and the cab of the van. Then walked in the water and held her hand as she balanced along it into the van. The ladder was bending a bit and I was thinking 'Hope it doesn't break', but it was okay. We all got into the van, including our dog and we got off the Island and we were taken in at King John School.
The next day the wife said to me 'I've got to have some dry clothes, some other clothes!' So I left my vehicle at Benfleet and walked back onto Canvey. Of course there was water everywhere. Well I got to the Haystack Corner and Furtherwick Road (South) was all flooded but I found a canoe with paddles in it, tied to a lamp post. So I untied it, and there was a soldier there and he shouted out 'Can I help you?' I explained what I was up to and he said he would give me a hand. So we both got in this canoe and tried to paddle it down Furtherwick Road. Now I had no idea of how to paddle a canoe and neither had he and there was still a current running and all we did was end up in a bush. I said to him 'you sit in it, I'll walk and tow you along, the waters only knee deep!' So we got to the end of Leigh Road like that. When we got there, I said to him 'Look there is a dip in this road and the water might be a bit deep for me to walk and tow you, so you'll have to paddle across this bit.' Which he managed all right and we got to the bungalow.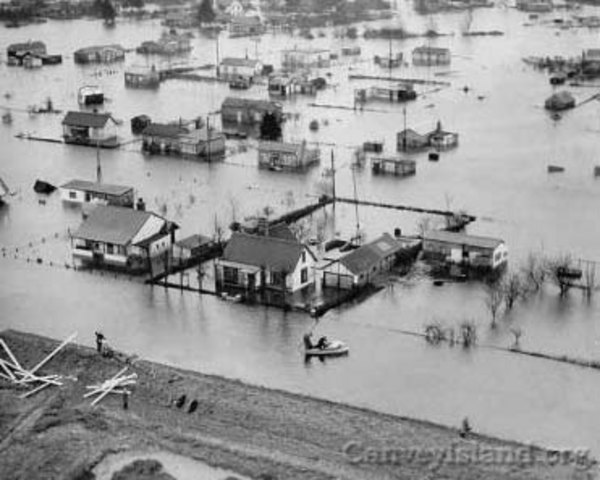 I found a tarpaulin and got some clothes together wrapped them up and put them into the canoe with the soldier.  He seemed to have got the idea of paddling by now and managed to manoeuvre across the deeper water. Then I had an idea, I got my wife's bike out of the shed. I started out alright peddling through the water but when I got to this dip, for a few seconds I was sort of 'water-borne' then the bike just came to a halt and I came off, right down into the water. When I came up my clothes were full of those white worms, in my sleeves, in my trousers etc! I couldn't leave the bike there so I had to go back down into the water to pick it up. I just got hold of it and chucked it over a neighbour's hedge.
We got back to the Haystack, tied the canoe up and I thanked the soldier for his help. There were actually buses running so I was able to get off the Island on one and walk up Essex Way. When I got to King John School, (I must have been gone 4-5 hours) my wife was there to greet me, her hands on her hips, she said "Where where do you think you've been?"
Shortly after that the doctor came to see her and examined her and sent her straight off to Rochford Hospital and within a couple of days she had the baby. Now the 'Southend Standard' and all the local papers reported that 'Mrs Gower had had the first flood baby'. The National newspapers got the story and the response we got was terrific. So much so, that one day when I was visiting, the Matron called me over and said 'Mr Gower, we've got all these gifts for your baby and they're blocking half the corridor and we're having trouble getting through'. There was parcels from all over the country; Milk, baby clothes, you name it, for my infant son. In fact, I filled up the Dormobile with all the gifts.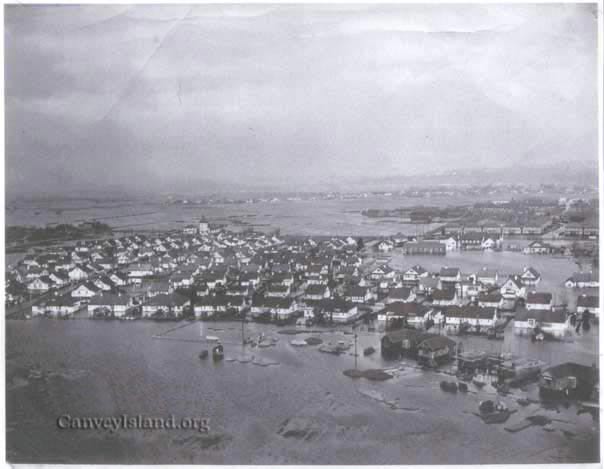 When I got back to King John School I had three blokes chasing me around each one trying to give me a brand spanking new pram (must have been an advertising stunt). I said 'Look we've already got one pram we don't need three more, why don't you give them to someday here who needs them!' But they insisted they had to give a pram to us, but I said 'Thanks but no thanks'. I wasn't ungrateful but I hoped they'd give them to someone who really needed one.
To this day I still don't know if Rodney was the first flood baby on the whole East Coast, he certainly was the first from Canvey. We just went along with the story."