Conversation on a Summer Afternoon, 2010
Canvey Characters
Whilst chatting to Dudley George one afternoon a couple of weeks ago the conversation turned to Canvey Characters and Dud told me a few anecdotes about two in particular; Arthur Reed and Madam Blackford.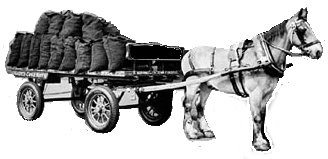 Arthur will probably need no introduction to many older Canveyites, in fact he is almost  legendary. A true old 'country boy' tall and big-boned with a broad Essex accent, he could probably have taught Ray Mears a few lessons in outdoor survival techniques. He was known to be able to sleep in a ditch on freezing winter nights when the snow was on the ground and catch a wild rabbit for the pot with his bare hands. This was a lifestyle that he followed into his later years even when he was 80 plus. In the pre-war decade (and possibly during W.W.2) Arthur shared his local prominence with a big white horse, the latter was his work companion in the job of emptying rubbish from the big metal bins that were located at the end of some Canvey roads e.g. St Annes, Maurice Rd and May Ave. The big white horse pulled a cart which was owned by Scotts the Coal Merchants (the Council must have contracted out even in those days). Arthur used to drive it standing up and being Arthur, he'd rummaged through the rubbish and was often attired in a battered top hat and moth-eaten fur coat he'd found in it.
Quote: Arthur Reed walks into the Lobster Smack with a hessian sack over his shoulder and says to some drinkers " If yew kin tell me ' ow many rabbits are in 'ere I'll give yew both of ' em!
Until Dudley told me about her Madam Blackford was not a character I'd heard of before. Apparently, she was a rather eccentric lady who lived on the Labworth Estate, one her idiosyncrasies was ultra royalism, given the slightest excuse (royal birthdays etc) she would festoon her bungalow in patriotic colours and slogans. She also had one or two other foibles of which we shall learn later.
Arthur Reed and the Barbedwired Badger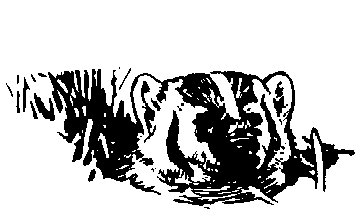 Dudley re-told this story he had heard from Frank Dent (his brother was 'Sparrow', the bus conductor). Frank was having a drink in the Jellicoe when Arthur Reed came in and told him about a badger that was tangled up in barbed-wire in a ditch down Northwick Lane. Arthur asked "Can yew come down an' gimme a hand to git 'im owt"? Frank was not keen to go down to the other end of the Island for the badger's sake but Arthur kept on and he eventually gave in and got the bus to Northwick after Arthur had left on his bike. He was even less keen when he got there and saw 'Old Brock' snarling, baring his teeth and thrashing around in the ditch. Arthur said "I'll put me boot on 'is 'ead an' yew can git the wire off of 'im." Reluctantly, Frank undid the wire and as soon as he was free, in one bound and a mighty "SNAP" of his jaws the badger was off. Frank looked at Arthur thinking the badger could have had his leg off but he was unscathed. Not so Arthur's bike, which he had laid in the ditch close to 'Old Brock', that mighty "SNAP" of the animal's fangs had not only punctured the front-wheel tyre but pinched the rim together rendering it beyond repair. Arthur used a great deal of colourful local dialect berating the now departed badger for his ingratitude.
Madam Blackford and Arthur Reed
It was a well known on the Island that Madam Blackford and Arthur did not get along and this was a story told to Dudley by his Mother.
One day there was such a commotion in Canvey High St, when Mrs George looked out she saw Arthur, coming from Lakeside, driving his cart in his usual stance, the white horse proceeding at a steady trot, behind ran Madam Blackford, arms waving and berating Arthur with a great deal of colourful language at the top of her voice. To which Arthur turned around from time to time with a well-aimed insult. The episode ended with Madam B., totally exhausted and breathless draped over the railing that ran alongside the ditch at the top of May Ave (Mrs George was worried Madam might have a heart attack) and Arthur trotting off merrily towards Small Gains Corner.
Madam Blackford in the Co-op
This story was related to Dudley by his sister June when she worked in the grocery dept of the London Co-op at the Haystack Corner. Madam Blackford was a regular customer, in fact according to Madam B she was much more than that, she owned the Co-op and she let this be known to all and sundry everytime she came into the shop. Often whilst she was half-way through this diatribe an employee (Bill Bearsly?) would creep up behind her and her large hat forward over eyes. However Madam did not react by tipping it back but would instead shout out "Oh dear, Oh dear I can't see , I can't see" careering into other customers and displays and also saying what 'the management' would do about her mis-treatment. After a few minutes some kind soul would pull her hat back for her and comparatively normal service would be resumed. Not exactly P.C by today's standards but certainly part of life's rich pattern in Canvey's past. I shouldn't imagine many antics like this take place in 'Iceland' which now stands on the Co-op site but maybe the ghost of Madam Blackford pops in and moves some stock and bumps into some displays.