Childhood Memories of Canvey Island
by Des Sythes
These memories were added to the guestbook on my Canvey website  by Des Sythes in 2007 and I feel they warrent inclusion on the Archive.
~~~~~~~~~~~~~~~~~~~~~~~~~~~~~~~~~~~~~~~~~
I moved with my parents aged ten in 1938 to Canvey, and lived there for the whole of the war. I attended the Junior School on Long Road ( Head, Mr Benson) and later the old Senior School ( Head, Mr Read).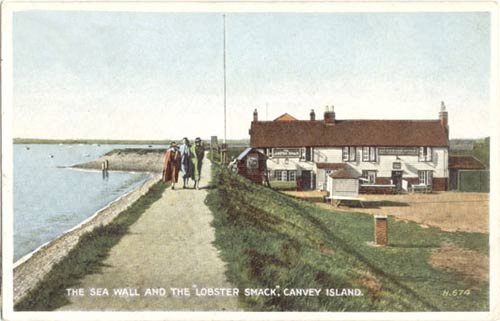 We lived in Malvern Avenue in the Village on the road leading to the Lobster Smack. The Village Postman lived in the Dutch Cottage. There was a wood barrack cum signal tower built in 1939 just outside the Lobster Smack, every ship that passed was contacted by morse and given berthing details for those ships inward bound, and convoy detail and where to anchor off Southend for those outward bound.  Also in 1939 the PLA built a small pier along from the Lobster Smack for the Thames Formation of motor launches manned by Naval personnel.
As a boy I had a paper round from the paper shop in the Village, and had access to all these places.
The old Coastguard cottages were empty save for one which housed a venerable old pipe smoking lady, an ex Piccadilly flower seller. The only other occupants were the River Thames Formation of the NFS ( (National Fire Service), whose fire- float (an ex rich man's motor yacht with a name like 'Serina') was moored just off Hole Haven point.
I also remember a tanker hitting a mine in the fairway catching fire which was quickly put out, and the lascar and Chinese crew being brought ashore wrapped in blankets.
I also remember boarding half a Liberty ship that was anchored in the Haven having broken her back. (I never knew what happened to the stern half, her forward hold was full or jerry-cans of petrol with planks of American oak separating the layers.
Somewhere I have a photograph of myself holding some of the parts of V11 Rocket which landed in the fields and exploded. For years I had an incendiary bomb under my bed with the inevitable box of shrapnel so avidly collected by schoolboys. Canvey was a wonderful place to see ships, so much so I spent the next forty years at sea.
With my paper round money my mates and I used to go to Southend, 5d return from Benfleet. Garon's in Southend was about the same price for an afternoon matinee. Half the time our parents didn't know where we were. It's a shame todays kids have not the same freedom as we did even in wartime with millions of servicemen around.
As a kid I watched history being made with the Battle of Britain being fought overhead. The troops being billeted in the empty bungalows having come back from Dunkirk. The Canadian soldiers in Camps along Furtherwick Road. The roar of the hundreds of Aircraft and the many gliders towing Dakotas on their way to D Day with the hundreds of ships off Southend Pier on June 5th'44 that had disappeared by the following D. Day