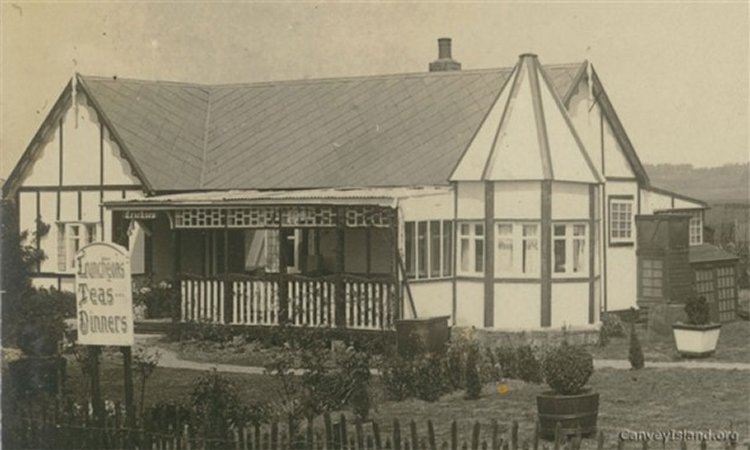 I was born in Aldershot in 1940. As a family we came down from Scotland to Canvey Island in the year 1944. Mr and Mrs Newman my Grandparents had bought 'Cricksea' and Nan changed the name to 'Greenglades' because she did not care for the old name.
The war was still on and apparently a bomb had gone off nearby so the windows had smashed and a lot of damage had been done. Granddad had to do a lot of work so employed men to restore the building. I can remember how lovely it was at 'Greenglades' a lovely garden to play in and a feeling of freedom. Auntie Fay was Nana's youngest daughter and many an hour did we play together. I had to call her Auntie Fay at that time because I was only four and Fay was six and a half years older than me. Later on I was told to call her Fay as she would feel very old!
We went to Kingsley Hall School and my brother Chris went too, even though he was under age! Chris followed me everywhere and I would call "Come on son". We used to walk to the sea wall at the back of 'Greenglades' and play. One day a young boy pushed Chris into the water, I would have been about six at the time. I called out to Chris to kick his legs and move his arms. As he got nearer I pulled him out. Mum had to bath us when we got home.
Nana was a concert pianist so she always had a piano. Auntie Ciss came to live at 'Greenglades', they had a chimney built for her, so she could have a fire to keep warm, she was one of Nana's sisters. I loved Auntie Ciss a lot, she showed me how to knit I was four!
Granddad was a photographer and I can remember him with the large camera on the top of the tripod and putting his head under a black cover. In the other hand he held the receptacle with gun powder in it. The Granddad would say "Look at the little birdie" and then the gunpowder went off. Granddad was a very quiet soul, he was lovely!
Auntie Stella, thats one of Nana's daughters lived in the annex. She had a baby boy called Trevor. Mum and Nana did all the cooking so were always very busy. As children for a bit of fun, we would slide on our bottoms in the big room. We used cloths to sit on and polished the floor.
When I was six, mum took me to London hospital to have my tonsils and adenoids removed. I took a dolly with me and her blanket and someone took them. I was very upset so told mum. Mum told a nurse and she said I could choose anything out of the toy box. To my mums horror I didn't choose a beautiful doll, I chose a small soft cat and a small yellow soft dog.
My dad was in India as I recall and he sent over a tube of condensed milk which we all had a lovely lick of. Dad also gave mum the most beautiful jewellery. We also had those lovely Indian carpets. One day I decided to have a shop outside 'Greenglades'. I sold my cat for sixpence. A lady went in to see Mum and said "Do you know what your daughter is doing?" I had all mums jewellery up for sale as well. Mum put a stop to it! I can't even remember getting told off. I was six years old!
The Salvation Army hall was at the back of 'Greenglades'. I loved to listen to all their lovely happy singing. Mum says I was always bringing cats home. The memories I have of living at 'Greenglades' are very lovely.
In 1947 we left 'Greenglades' and went to live in Bordon, Hampshire.