Reginald Bernard Newman
Survived WW2 killed Korea
Reginald Bernard Newman was born in London in 1921. He was a gunner in WW2, having survived the war he worked for his father who ran Greenglades, a Boarding House on Canvey Island.
His father set up a fish shop in Benfleet near where the underpass for the railway now is which Reginald ran along with his brother-in-law. The shop backed onto the creek before it was filled in.
He had met his wife Sarah Jane Wintrup whilst he was stationed in Hawick, the couple married in Romford in 1942. In 1950 he was called upon again when the war in Korea broke out. On the 7 Feb 1951 he was killed in action in Minbaeng and is buried in the United Nations Memorial Cemetery, Pusan.
~~~~~~~~~~~~~~~~~~~~~~
The following are accounts from two papers lent to me by David and Jessica Thorndike, Reginald was Jessica's Uncle.
KILLED IN KOREA
Artilleryman who Wed Hawick Girl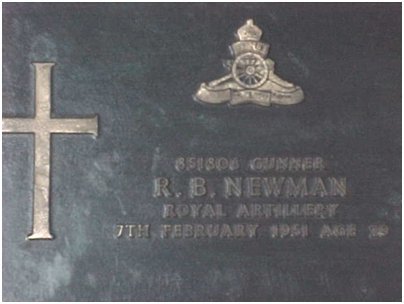 News was received in Hawick at the week-end of the death in action in Korea of Reginald Bernard Newman, attached to the Ulster Rifles, who resided at St Bernard's, Canvey Island, Essex, and whose wife was a former Hawick girl-Miss Jean Wintrup, daughter of Mr and Mrs Wintrup, 19a Wellington Street.
In 1941 Gunner Newman was stationed in Hawick with the Light Artillery and he subsequently served in Egypt, North Africa and Italy, He was married in 1942 and had one daughter, now aged 4. Demobbed in 1948, he was recalled to the colours on 24 hours' notice in 1950 and he sailed for Korea after 3 weeks' special training.
He was engaged with his father in the family business at Canvey Island.
Mrs Newman was on a visit to her parents in Hawick when the tragic news reached her on Thursday that her hus­band had been killed at Minbaeng on Feb­ruary 7th.
KILLED KOREA
Mr Reginald Bernard Newman, aged 29, of "St. Bernard's," Southfalls Road, Canvey, was killed in Korea when a Jeep in which he was travelling went over a mine. He was buried at Suwon.
Mr. Newman, who served in the Artillery as a gunner, was a recalled reservist. Dur­ing World War II he was with the 8th Army.
He and his brother ran a fish shop in Benfleet.
He leaves a widow and a four-year-old daughter.