The Doodlebug Baby – that's me. As I was being born at Mayland Avenue in July 1944, a doodlebug had just landed by The Red Cow (King Canute). Nurse Morgan, who delivered countless babies on Canvey, whose familiar black bike with the basket in front was leant against our side wall whilst attended my mum gave me the title as I came into the world.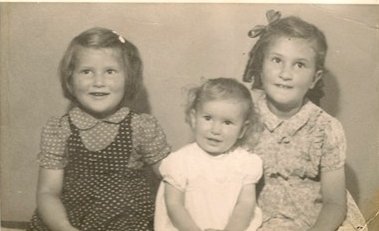 My earliest memory is of my mum being pregnant with my younger sister who is three years younger than. My older sister is three years older than me so I was always known as the one in the middle, one of the Three Jay's as my mum and dad gave us all Christian names beginning with a J, which caused no amount of arguments if a letter arrived addressed to Miss J Randall, we all used to claim it was our own. My older sister usually got to open them first, unless it was around birthday time.
The Infants department for Long Road County Primary was a long one storey building at the back of the Junior school with a playing field separating the two. My first teacher was Mrs Mole, the following year it was Mrs Cook, there was also a Mrs Brown teaching in that block. Living quite close to the school, we walked to school along the old Fort Road (Thorney Bay Road) when it was all fields and wild hedgerows. There was a country lane leading to the old 'Gas Ball and Sausage', which could be seen from our back garden in Mayland Avenue which backed onto fields. Living close enough to go home for lunch, we took every short cut across the fields and then back to school. Being one of three, our treat for after lunch used to be a third of a Mars Bar each or a tube of Smarties divided between us, to have walking back to school. My parents never took us to and from school, the world was a much safer place then and we were allowed the short walk there and back on our own. They had a shop to run in Pitsea so it was only when my younger sister was old enough to start school that the neighbours opposite, who we called Uncle Tom walked us to school. His wife, Ethel, was blind so it was always Tom that saw us over halfway there then left us to cut across the remaining field to the school entrance. One day, in a rush we all got to school when Tom realised that my younger sister still had her slippers on, but there was no fuss made at school.
Mr and Mrs Benson ran the Infants and Juniors and everyone loved them. Another firm favourite was Mrs Kingsley who was the school secretary/nurse and she knew and said hello to everyone as she cycled along Long Road to school every day. The school ran a savings bank where every week my mum gave me 2/6d to save which was duly entered in the little blue savings book and I can remember how excited we all got when it tallied up to £5.00. We all had a bottle of milk at playtime, during the winter it iced up and the silver foil tops began to pop off we used to lick the creamy part of the milk that had solidified. Whenever possible bottles of milk were placed on the heating pipes which ran around each room to take the chill off. Oh the thrill of being a milk monitor, or even better, hand out the straws. During my school years the school had a hall which was situated along the front corridor, alongside the 'top' class which Mrs Benson took, but by the time I was old enough to be in that class Miss Gosling was the teacher for the older children, then I think there was a Mr Hall's classroom, the hall, then Mr Taylor's room, the staff room, an exit door to the playground, turning the corner, first room was Mr or Mrs Evans then girls/boys cloakrooms with cream metal pegs for coats. Nothing seemed to be labelled, we just hung our coats on the next available peg.
My memory is a little hazy for names of teachers along the back corridor, it could well have been Mrs Green. There was also a Mrs Fountain, whose son Christopher was in my class and who was the only one allowed to turn her sheet music over whenever she played the piano. Poor Miss Gosling, her of the auburn hair and brown round glasses had the unfortunate responsibility of trying to teach everyone to knit. Progress was slow and her patience was thin at times. I can remember reciting the times tables parrot fashion in Mr Hall's class and having set time to read to ourselves, a pastime which I've never regretted. We loved our playtimes and once, when it had been snowing we were allowed on the front field. As I walked over to my friends, an icy snowball hit me in the eye, then as I made my way to one of the dinner ladies that were walking round, someone scored another direct hit into my other eye. Think I was allowed to stay indoors for the rest of that day.
We had the floods of course in February 1953, our house had water halfway up the walls inside. I can still remember the smell of wet carpets and the damp mark which lasted for years inside and which made wallpaper peel off no matter how many times it was decorated. My mum and dad threw everything out into the back garden, it used to be a nice lawn, but after the flood my dad lost interest in maintaining the garden as hardly anything survived the salt water and so a lot of garden was allowed to grow wild, which was great for us kids. We made camps and used the mice-infested shed in the back garden as a pretend palace/shop/theatre. It became whatever our imagination wanted it to be, as did the verandah at the front of the bungalow, although this was mostly a stage. We also had an old concrete shelter round the side of the bungalow and although it was mostly part filled with water for what seemed like most of the year and old rusty mowers, plus a whole host of spiders. When we used to run up the curved arched sides without holding on to get to the top and then to sit on top on a dolls blanket was quite an accomplishment that could only be achieved with lots and lots of practice. The successful ones used to pull the younger children up. It's a wonder any of us didn't hurt ourselves.
On the morning of the floods, there seemed to be a lot of noise and activity going on for so early on a Sunday morning. Looking out the back garden across the fields we could clearly see the water steadily getting closer. I went with my dad to find out what was going on when we met a part time fireman halfway down Southwick Road who told us to get off the Island as quickly as possible. By the time my mum had got our clothes together, along with some washing that needed doing, we made our way along the old Fort Road to Long Road. There were a lot of people walking along with us, a constant stream of families all evacuating their homes. We all had wellington boots on and just before we got to Long Road, a workman's bus stopped to pick us and many others up. We all had to go upstairs. Water was cascading into the ditches and dykes that ran alongside Long Road. From Northwick Corner onwards, past Leeches farm, past the cattle sheds, there was water everywhere. People were wading through, pushing prams piled high with luggage and bundles. At Benfleet Station, people were crowded onto the platform, some in their nightclothes and looking back across Benfleet Creek, there was nothing but water to see. We went to stay with some friends who had a flat over a grocery shop in Vicarage Lane, East Ham. As my dad had a shop to run he returned to Canvey the next day and found an oar floating around in our front room. He said the army had broken in to make sure no-one was left behind. He was also very wet, as he'd stepped off our footpath into the ditch outside our house and ended up waist high in water. We eventually stayed with some more friends of the family in Pitsea and attended Pitsea Primary School for all of one day. When we were able to return to our own school in Long Road, we were give huge Arrowroot biscuits with our milk. I can remember my mum, along with so many other parents rummaging through piles of clothes to find appropriate clothing for her three girls having lost everything indoors. Being so young, it all seemed a huge adventure to me but the devastation and loss was clearly all around. In Beverly Avenue, the road running parallel to Mayland Avenue, on one of the roofs was painted 'Canvey Will Smile Again' and seemed to be up there for years after.
1953 was also Coronation Year and people rallied round to celebrate the new queen being crowned just a few months after the floods hit. We had a street party where neighbours bought out their tables and chairs and strung red, white and blue bunting across the roads. Everyone knew everyone and most mum's of the children down our road were helping out with the food and drinks. At school we had a fancy dress competition. All the costumes were home made. I had a newspaper dress, made from the centre pages of the Daily Mirror, showing the new queen in all her finery with a cardboard crown with 'In The News' written on it. I won a tube of Rowntrees Fruit Gums. I used to have a copy of a photograph taken for the occasion, probably taken by Joe Overs, taken at the school when this competition was held, which I unfortunately now cannot trace. If there is anyone out there who knows where I can get hold of a copy, please let me know. It's something I want to put in an album for my grandchildren for when they are older.
My mum and dad had one of the first televisions in the road, and I can clearly remember having a lot of neighbours in to see the marvel of television broadcasting the coronation ceremony. The set was a tiny 9 inch G.E.C. with a bakelite case, with one just two control knobs on the front. In those days, turning the television on meant we had to give it time to warm up. We watched Muffin the Mule on Sundays. In between programmes there used to be an interlude, I used to like the potters wheel, and the programmes used to end with God Save The Queen playing whilst a union jack flag flying was displayed on the picture. We were also one of the first families to have a telephone, but shared a party line with a family a few doors away from us at the beginning of our road. Many's the time the phone rang and one of us girls had to run to whichever neighbour was wanted at the time.
As our house backed onto the fields leading to Thorney Bay and Fielders Camp, we spent many a summer making camps and using the baled hay after harvesting as hideouts. We used to take. There was often cattle in the fields too, and many was the occasion when my mum called out that there was a cow in the back garden as our back fence was non existent in places. There were usually tractors and hay carts in 'our field' and the flat bed of the hay wagons became centre stage for many an amateur performance for all the children in our road. We used to haul ourselves up on the huge wheels and then jump down into the soft hay. Luckily all the farm equipment was owned by families who lived further down our road, and as their sons and daughters were close to my sisters and I in age, we all got together to join in the fun.
During the endless school holidays, the children down our road usually played together. If a couple of us started a game of hopscotch it wouldn't be long before most of the children wanted to join in. Another big thing was skipping. A handy long length of clothes line rope was used and being one of the youngest I always ended up turning the rope for others to skip over. A great favourite was 'One, Two, Three O'Leary'. the aim was to get home ( a convenient lampost) before whoever was 'it' could see you. Mayland Avenue at the time had ditches and hedges in abundance to hide. If you were spotted, the person, who had to hold onto the lamp post with one hand, called out 'One, Two, Three etc and the person's name they'd spotted. The best time to get 'home' was when the spotter was calling someone else's name out. We played out until the gas lamps came on. We had two in Southwick Road and only one in Mayland Avenue. When we used to walk past them, we could hear the gas flames hissing. If anyone was out of range of the gas light's beam, we used to call out or whistle to make sure they were OK.
Happy childhood memories from a time when it always seemed to be summer and health and safety wasn't an issue!