Within Living Memory
My memories start on Canvey Island in 1928-1937.
We left Highbury by bus to Finsbury Square, walked down Eldon Street, then Houndsditch to Fenchurch Street station.
We (my family- mother, brother and I) would leave Fenchurch Street about 12 o'clock to Benfleet, Canvey Island railway station.  My father could never make the journey due to pressure of work on a Saturday until 5pm.
We would have to cross by the stepping stones or wait for a rowing boat, if the tide was in, – there was no bridge at that time!
Our house, termed lodge – as it had an outside staircase, was one of three or four bungalows on a large site behind the Clements' Dairies in Gafzelle Drive, near to The Admiral Jellicoe at Leigh Beck.
We stayed for two to three weeks at a time, usually three times a year – Easter, Summer and the October half term.
My brother and I would go with jugs for drinking water and milk for a penny, as mother would be making up the beds.  Our bed linen and summer clothes would be sent ahead in a large wicker hamper, by Carter Patterson.  Mother would also have brought enough food for the week-end, a chicken or 'h-bone' of beef, leg of lamb etc.  Her meals were very special, in spite of the means of cooking being a wood fire with oven attached.
There was no gas and only paraffin lamps for lighting.  Mother was able to cook the vegetables and boil the kettle on the top and we may possibly have a pudding – rice or bread and butter, or particularly 'bread' was delicious.
There was only one outside tap for everything – cooking, washing and washing up, – very primitive but the water was very soft and made the chores very easy.  The toilet was an outside 'cupboard' – just a hole in the ground, with, with personal toilet paper – not on a roll.  The hole would be filled in and cupboard moved around the grounds annually.
Gafzelle Drive was just a track like most of the roads off the main road – (now the High Street) leading to the beach.  Our tin cans would be put in the rucks as a type of topping-up procedure, since there was no path or roadway.
At the top we would have to cross a deep dyke with some sort of railway sleepers as a bridge to get across, especially for mums' with push-chairs!
Our days were spent all day on the beach with picnic lunches and we had such fun when the tide came in and when a large boat would go by, we would dodge the 'wash'!
In the evenings there was a concert  party, a stage and seats in the open air.  There was also another 'must go' – the Casino, where slot machines for ½ d and 1d, roundabouts and a slippery – slip – where you take the mat up to the top of this tower-like structure and shoot down – always only a 1d!
My brother and I would be allowed to go alone to these events, our parents were very trusting and it would be safe!
In order that we had lovely meals, Bobby and I would collect kindling wood from the beach – left when the tide went out.  It would have to be the dry remains and keep our fire alight for two weeks – even in the summer.
Mother would have an outside shelf where the milk, butter and cold meat would be kept in a 'mesh safe' – everything would be covered to stop the flies etc!!
Over the years our friends and relations would often come for a day, this was a very reasonable day out for folks who couldn't afford a full week's holiday!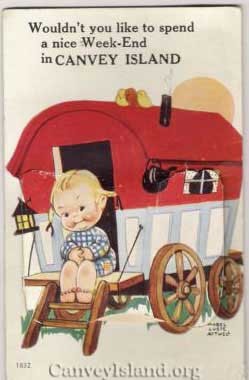 We were advised to come to Canvey Island because my brother was quite  poorly and the doctor thought the sea air at the Thames estuary was special.  Apart from the ozone, Southend was also noted for the mud and it's health properties.  Certainly all the years we went regularly must have done us good, we are both over 80 and our mother died in her 100th year!
When I was 14 and a wage earner, I was trusted to come again with my friend only, to one of the holiday homes – this time a gypsy type caravan on wheels – it was obviously cheaper than the usual 'lets'.  We had a few steps to get in the entrance – but on our first holiday alone without our parents – 'very grown-up' my mother came down for a day with a chicken – obviously doubting we were eating 'properly'!
Imagine, doing that journey by train in a day now?!
(Edith eventually retired to Canvey in 1993)