Early 1940's
Canvey Island sea front.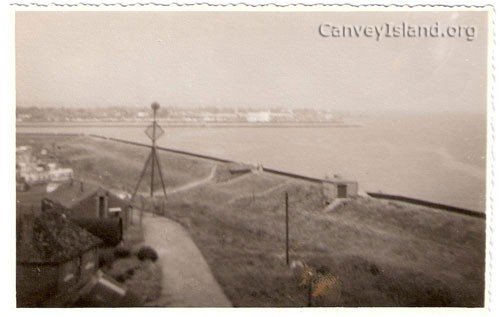 Our little group from the Parkway Driveway area would, whenever possible in wartime ,swim and play around Thorney Bay.
We knew that the bay had another name in those days…."Dead Man's Bay".  The very thought of the reasons why were always in our minds when playing there and indeed, young imaginations really played a part in one memorable incident.
As the tide receded we would move around to the sea wall running along towards the Labworth Cafe. Here the water was still deep enough for swimming and diving. As we approached our usual swimming spot, one of us, I forget just who it was,yelled out "look, there's a body floating in the water"!!!  With chills running up our spines we all moved along the wall to look down  to where the sighting had been made.  There it was, fairly far out, but definately looked like a headless body. Someone said they could make out a dark blue uniform, like a sailor might wear. Now we were fairly sure, but the only way we would be able to be really positive would be to get a long stick or something to snag it and bring it in towards the wall.  Someone went over the other side of the wall and found a good long stick and the "body" could be manoeuvred closer. As we dragged it closer it soon became obvious as to what we had really found . It was a huge,black satin covered cushion with the corner split open and some of the stuffing hanging out.!!!!    I can assure you, we all took a big sigh of relief.    I suppose that in wartime, and with all that was happening it became easy for young lads to see what they thought might be floating towards Dead Mans Bay.