Two Dereks one a Viscount
Taken from John Manly 0 to 60 +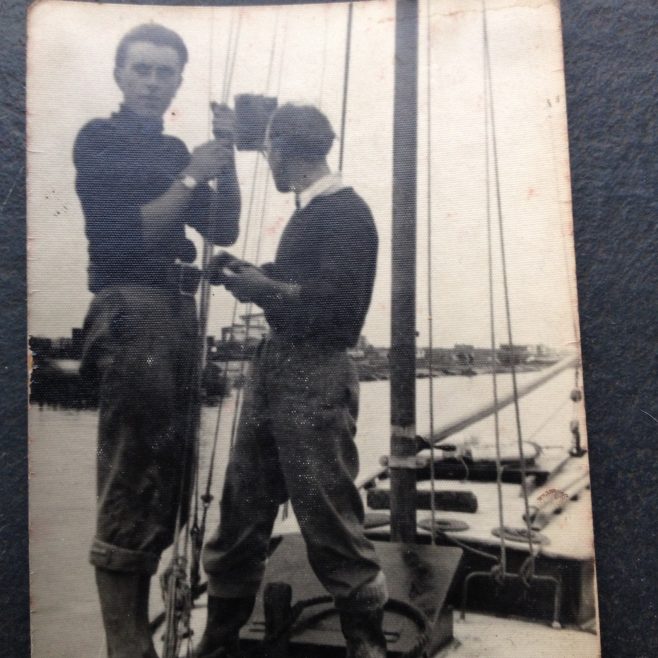 Island Yacht Club 1948 or there abouts.
There were plenty of older club members that had larger expensive boats and would need a crew to help man them. One of them was a man called Derek Heathcote-Amory, he was an MP and very rich by our standards. He had two deep keeled sailing boats both having a displacement of about 5 or 6 tons. These were  called "Coranto" and " The Golden Fleece ". Derek Kennard was the permanent crew and used to look after these boats while Derek Heathcote-Amory  carried out his work in in London. He would get to Canvey as often as possible. Heathcote-Amory was a nice old boy, tall and skinny, he always wore shorts and specials and was prone to accidents. I can't count the times that I have seen those specs with a horrified face behind them, disappear beneath the water. He was always in a hurry, he was always late, and the tide would be well on it's way out before Heathcote would appear striding along the sea wall as fast as his legs would take him. Derek Kennard would be on the pontoon fuming and several times pulled away in the dinghy before old Heathcote had got in properly and he finished up in the "drink".
One time Derek K was so mad at him being late that he pulled away from the pontoon before the old boy had time to sit down, he overbalanced, sat down heavily, his case hit the side of the boat and opened and all his weekend kit including his camera went floating down the creek much to the delight of all the onlookers .
Because his boats were deep keeled, in tidal waters we often saw it stuck on the horse ( a mud bank at the entrance to the creek ) Heathcote would be striped off and over the side trying to push it off. Derek K would be sitting on deck making out that he was helping by putting his weight on one side. We would give them an encouraging cheer as we sailed past knowing that they would have to spend an uncomfortable night aboard until the next tide floated them off! I think Heathcote spent more time floating in the water than he ever did on it!
The letter below was sent to Derek K from the Queen Elizabeth in 1948
It Reads:-
Dear Derek,
This boat is is a bit cumbersome after Coranto. I would not care to get stuck on the mud in her as she would take some pushing off.
The postcard sent from The Queen Mary in 1948 and reads:-
This boat has been rolling an cavorting about in a way that Coranto would be ashamed to do.
The tugs are a good idea-I think they might be useful in the Ray, I must get one or two. It is a nice ship except that it has a radio set aboard. What News of Coranto.
This was a private joke as the chaps who were Coranto's crew had badgered Derek H- A for a radio expressly for obtaining the weather forcast. He had relented but regretted his decision when they played the latest tunes.
Much merriment was enjoyed when they caught him tapping his fingers to the beat.
The man on Coranto (you can just see the name plate) is Derek Heathcote Amory .
The two young Men are, Left , Derek Kennard Right Jack Fenwick.
Derek Heatcote-Amory had an extensive list of achievements (wikipedia) Minister for Pensions, Minister for Fisheries and Food, Eton Educated, Chancellor of the exchequer 1958-60 Chancellor of Exeter University. The list goes on…….
His family home was Knightshayes, Tiverton now a National trust property.
He was obviously a kindly Gentleman who loved Canvey Island .
The other Derek was none the less important as he amongst other things went on to be a lifeboat crewman for 25 years and undoubtedly saved many lives .
All photographs and Letters kindly supplied by Derek Kennard.