Bonfire Night on The Labworth Estate
The early 1950's
Meynell Avenue / Eastern end of Labworth Road in the early 1950's.
The mob consisted of Martin Zambra, John Knapp, Peter Wilson, Les Harvey, Frank Liddicott, Ricky Saunders & Rod Bishop, plus a couple of others whose names I am ashamed to say slip my memory. (Any others come to mind?)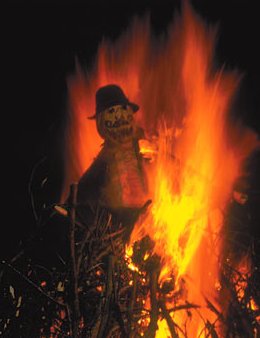 The build up to November the 5th began in September, by gathering material for the bonfire, which was located in the field at the eastern end of Atherston Road where Meadway & Lubins School are now situated. At this time only half of Atherstone Road had been developed, leaving a clear view of the sea wall from the houses on the south side of Meynell Avenue.
We started our quest by collecting old furniture from Martins second hand store in the High Street by Florence Road. This consisted of old unsaleable three piece suites, tables and anything else that would burn. The items were loaded on a hand cart and transported via May Avenue with the bigger boys pulling and pushing whilst the smaller ones sat on top. This went on for a number of weekends and what a laugh it was when the whole lot regularly tipped off into the road. Good job there were not a lot of cars about in those days.
Once back at the site of the bonfire, we would pull the furniture apart and would find money, penknives and other items lost out of people's pockets. At the same time as collecting from Martins second hand store, we would go opposite to Ron Pickett's bicycle shop and collect old inner tubes and tyres.
Once all these items had been collected, we then started going around the area, offering to cut the larger branches from trees located both in peoples' gardens and on the verges. This was carried out with some precision using ropes, various types of saw, and choppers borrowed from our dads' sheds. All this material would be dragged through the streets to the bonfire site, sometimes behind bicycles, where it would be stacked around the old furniture.
The bonfire would now start to be getting quite big and doubled up as a camp with tunnels etc., which would remain until Guy Falkes night on November 5th. A great time was had by all, collecting, building and playing in the bonfire as well as watching the parents finally setting light to our masterpieces and fireworks each year.
One memorable occasion was when one of the dads, thinking his fireworks were safe, being carried in a metal ammunition box, opened the lid ready to take out a firework, just as a stray one landed in his box, setting the whole lot off with a bang!
Because of the size of the fire it would still be alight the following day, to bake the odd potato on.
Occasionally, somebody would try set light to our bonfire before November 5th but this was usually thwarted before too much damage could be done, as we would take it in turns to stand guard.
Our rivals, who built their bonfire further up the field came from part of Atherstone Road, Grafton Road and the rest of Labworth Road,  some names I can remember are Billy Adams, Denis Smith, Eddy Valentine, and the boys and girls from the Cripps, Collins, Greenwoods  and Kings families.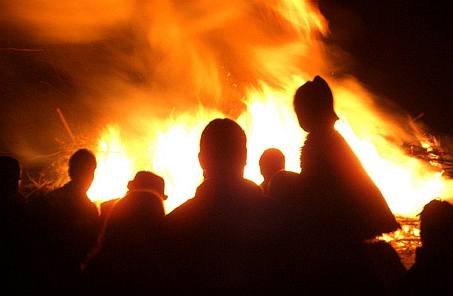 As well as making the bonfire we would make a guy, which would be taken up to the Haystack area and the High Street with a notice requesting a penny for the Guy. The money collected paid for some extra fireworks and the amount collected was dependant how good the Guy was. Although our Guy was always fairly good it never matched the ones made by Peter Day, who year after year turned out the best one. Sadly, Peter is no longer with us.
However did we manage to survive at such a tender age, lifting heavy items, using dangerous tools, climbing trees –  all unsupervised and without  the health and safety and risk assessments etc.that stop kids of today having this sort of fun.
The Bonfires ceased when the field was developed for housing and Lubbins School was built.
~~~~~~~~~~~~~~~~~~~
Pictures are for illustration only