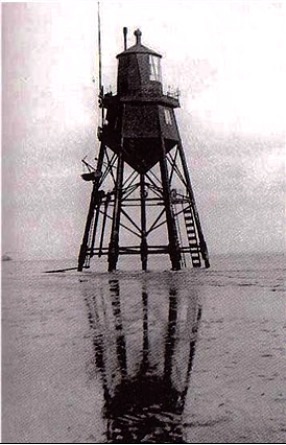 It was a sad day when The Chapman Lighthouse was dismantled and replaced with a Bell Buoy. The Lighthouse was a wonderful example of Victorian Engineering.
As a young boy, I spent many a happy hour in the Lighthouse. The Keepers, in their lonely existence, no doubt benefitted by our juvenile company, whilst we young lads revelled in being in this exciting adult world.
We were allowed to carry-out all sorts of  simple tasks, such as winding the Fog Horn. The mechanism for this was similar to that used on a domestic long case clock and required rewinding every hour or so.
There was  one other boy who used to come with me to the Lighthouse. Most unusual for me but I cannot remember his name, but I do remember that his soldier Dad came home with some really cool souvenirs i.e. Nazi Daggers, Armbands, Iron Crosses etc.
It was quite a walk to reach the Lighthouse, I believe it to be something like half a mile in distance. We would start walking when the tide was well on the ebb and the water was just below knee deep. Sometimes we would have to hang about for a while until it was shallow enough to get onto the lower landing of the Lighthouse, beyond this point the water dropped to a level of some 70 feet and the current was very strong. I think that if we got there early enough, we could stay for a couple of hours.
The Lighthouse was required to be manned because the traffic in the River was quite heavy and there was the danger of running aground on the Chapman Sands. There were cut-backs even in those days and with the introduction of Radar and the closure of the London Docks it meant that a Bell Buoy would be more than adequate to cope with requirements.
There were two Keepers manning the Light at any one time, sadly their names are lost in time. I am not too sure of my facts here, but I seem to remember that their shifts were something like eight weeks on and four weeks off, something like that was usual, but do not hold me to those figures.
They were able to row ashore to The Ozonia Stores for newspapers and day to day groceries but I think that their basic supplies were replenished when The Trinity House Supply Boat arrived with the changeover Crew. The Crew had the use of a small but very good library which was changed regularly.
Accommodation somewhat archaic but adequate. Two Bunks were provided and some of the walls were panelled in Mahogany. There was a reasonable sized galley provided with a cast iron Wood/Coal Burner. They salvaged most of their firewood from the sea and stored it on the staging at sea level.
At the Base of the Station there was a store cum workshop, where paint, rope etc was stored. It also provided housing for the heavy lead weight used for the Fog Horn. What a pity that this Historic Canvey monument could not have bee re erected on shore as a tourist attraction.
(Derek Kennard was better known in his Canvey days by the  nick name Wo**ie . Many in the Island Yacht Club crowd had Nick names. Winnie (Jack Windall) Cocoa (David Coates) Wo**ie  is politically incorrect, quite rightly these days but in the interests of people remembering him, I hope they can work it out. Jane Parkin)