Newly discovered gem!
journey down memory lane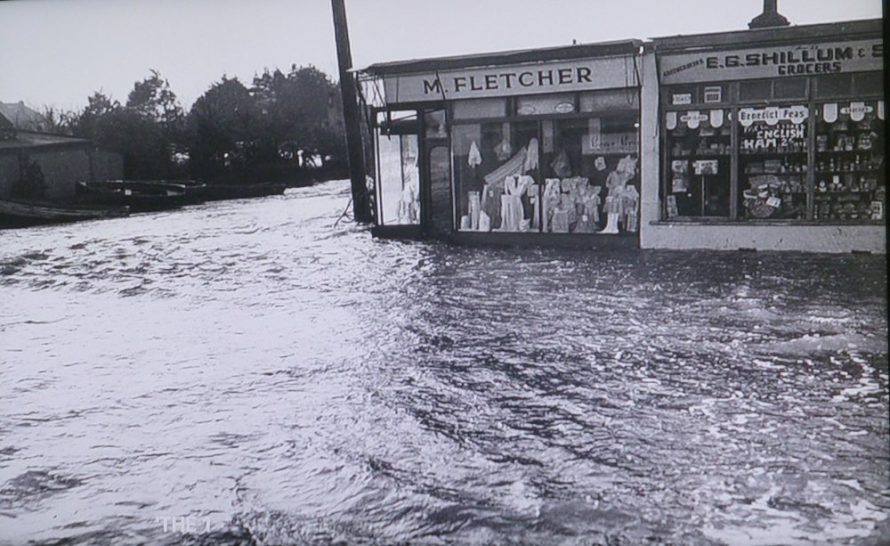 I've really enjoyed the memories evoked from reading this (newly discovered) website.
I was about to celebrate my sixth birthday when the floods came in 1953 and have hazy recollections of the evacuation. I remember having lots of layers of clothes put on me and walking through water along Fairlop Avenue to catch a bus to take us off the Island. Then after a long stay with relatives in Islington, returning to watery unmade roads (we lived in Vaagen Road) and wearing wellington boots for a long time!
I was reminded of Shillum's shop on Lakeside corner when I saw that photo; it always smelled interesting and had a tall round paraffin heater there in the winter, big ham joints on the bone all year round. What was his story I wonder? Did he escape from the Nazis in Germany?
I went to Long Road Primary School and remember Billy Theobald from Theobald's Farm, Peter Golding (father had factory?), Pat Hansford, Angela Akers, Linda Dullee, and Miriam Parker in the mid-1950s. Then went on the contract bus to Rayleigh Sweyne Grammar in 1958. It was flooded about a month after it opened!
Like most children in the 50s, we roamed about during the holidays on our bikes – cycling around the sea wall and meeting friends on the beach. We once saw a drowned person being pulled from the sea, which was very frightening. Benfleet Creek was also a favourite destination and we would clamber over abandoned wooden cabin cruisers. We also liked looking into the railway carriages that had been made into temporary homes after the war. Not so temporary, as they were still there ten years afterwards!
I left Canvey in 1963, so maybe it's time for a re-visit….