Ted Andrews
The Midnight Baker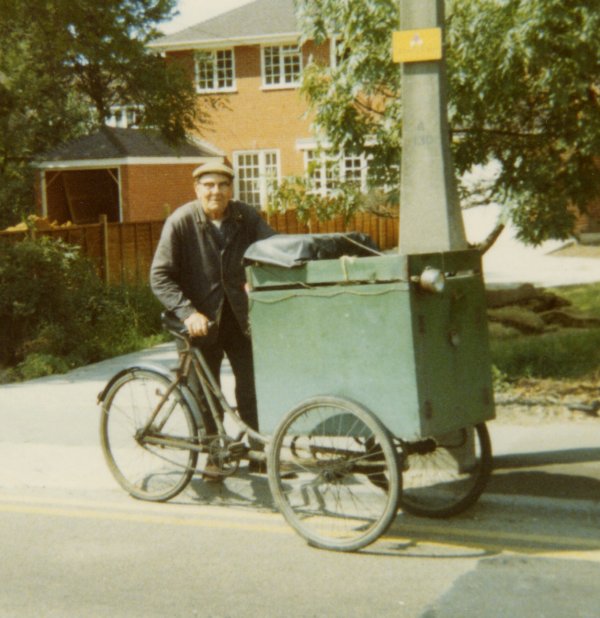 Ted Andrews worked for our firm from before the war as a bread delivery man and as far as I remember always used this 3-wheeled bike. He gained his nickname 'The Midnight Baker' as he combined his bread deliveries with a tally-round (early type of credit mall order) and therefore needed to collect his tally accounts in the evenings. As a child I remember going with my dad to top up Ted's bread stock between 8 and 9 o'clock on a summer evening.
Rumour had it that Ted was an ex WWI sniper, which could explain finding him hidden up in the dark corners at the back of the old bakery (actually I think he was sorting his accounts). Winter wear for Ted was one of those old leather flying helmets and a khaki army great coat which also could have been a survivor from the First World War. The photos show his non-winter attire sometimes with the addition of a leather jerkin.
By the late 60's and 70's Ted worked as an agent for 'Brookes Bakeries' of Southend. (I think they bought out Garons). It was not unusual to see Ted sort out the stock from his barrow on the pavement outside his cottage at the top of Haven Road. Fortunately it was all wrapped sliced bread then!
You can read about his wife Nurse Andrews by clicking the link.