Canvey's 'Grand Old Man' Dies
Mr G H J Chambers (1872-1951)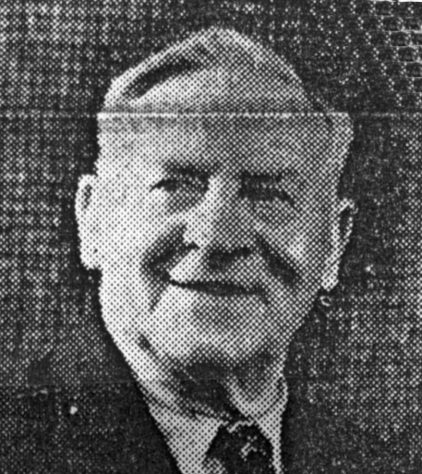 This obituary for one of Canvey's founding-fathers G.H.J. Chambers was kindly made available by George Chambers junr, his grandson. It was published in the Canvey News and Benfleet Recorder on Friday April 6th 1951. An important piece of the Island's documentary history, such is the competence of the journalism of the late Fred. B. McCave we are able to publish it verbatim, only adding photos supplied George Chambers for illustration.
~~~~~~~~~~~~~~~~~~~~~~~~~~~~~~~~~~~~~~~~~~~~~~~
Canvey News and Benfleet Recorder Friday April 6th 1951
With the death of Mr. George Henry John Chambers, aged 79 of "Maisonwyck," Furtherwick Road, Canvey Island has been robbed of one of its leading citizens a man who over the past half century has taken an outstanding part in local and county affairs.
A man of wide interests, Mr. Chambers had great depths of vision and if all his plans had been acted upon Canvey would have, advanced even more rapidly. Although disappointed when he was not returned to the Council in 1937 local election (he gave up most of his public duties soon after) he said, "If the public wants me they know where to find me." An ardent Freemason, he carried out many acts of personal kindness to individuals.
At the age of 10 years Mr Chambers lost his father and became head of his family. He left school and became a milk-roundsman and then a foreman. He saved £70 and went into partnership in the dairy business, and later bought his partner out at Stoke Newington. From Stoke Newington he went to Harringay and from there to Seven Kings. In 1904 he came to Canvey and bought land on the Island, commencing in a small way and first lived at Hilton Park (now Rainbow Avenue).
At the outbreak of World War I he started to supply the Island with milk and in 1917 he moved from Hilton Park to Furtherwick Farm; in 1922 he moved to "Maisonwyck." During World War I he was a Special Constable on Canvey.
Twenty Five Years' Service
Mr. Chambers had 25 years' public service as a Canvey Councillor, commencing in 1912, when he was elected a parish councillor, by show of hands and was a member for 14 years. For six years he was chairman. 'In 1929 he was elected chairman (after Canvey had obtained Urban powers) and to quote his own words "during my chairmanship was successful in carrying the bridge scheme through." In 1934-6 he again held the chair when sewage, ambulance, and a fire service were obtained,
In a by-election he was elected to the Essex County Council in 1929-30. To the time of his death he was a member of the School Management Committee and Board of Governors and had been a chairman for many years. He had been a member of Canvey Sea Wall Commissioners and vice-chairman in 1932.
He was instrumental in getting main water on the Island, recreation grounds and beach amenities. Urban powers and Town Planning, He wanted a different type of bridge to the present one, favouring a high level bridge (now advocated) and had the road and bridge passed to the Essex County Council.
High Masonic Honour
In 1917 he became a Freemason and joined Benfleet Lodge at the "Anchor Inn" (3798) and became a Past Master of Benfleet Lodge, 1925. He was a founder of Pitsea Lodge, and Trinity Lodge, Rayleigh. He was a member of Bondstone, London. He became a Past Master of all these Lodges. At Canvey Mr. Chambers was the founder of St. Katherine's Lodge, St Katherine's Chapter, St. Katherine's Proceptors and St. Katherine's Mark Masons. He became Past Master of all of them and in 1935 he was appointed Provincial Senior Warden. In 1950 he was appointed Grand Lodge Officer, a fitting conclusion to his Masonic career. St. Katherine's was founded between 1928-9 at the "Haystack." A hall was built at 'Maisonwyck" and permission was obtained from the Grand Lodge to hold meetings there and it became St. Katherine's Temple. His body rests there until the funeral.
Mr Chambers was also active in forming the Rendezvous Club and ran whist drives at Furtherwick Farm. He was a member of the Essex Farmer's Union and of the Rochford Guardians (before Urban powers were obtained by Canvey), he was a Justice of the Peace and held office in most Island organizations.
He and his wife (who died seven years ago) was a devoted couple, and gave much land to benefit Canvey organizations. This included land for Canvey s Secondary School, for the Wall of Remembrance and land to the Nursing Association. Mr. Chamber's motto was "Try anything once" and he had travelled widely by sea and air both to the Continent and other parts of the world. When he was over 60 he took up motor driving! A large property and land owner, his interests were not confined to Canvey, but he owned property at Benfleet, Rayleigh, Hockley, Wickford and Stratford.
Predicted Churchill as PM
With such wide activities as Mr Chambers carried out, it is not unnatural that there should be many recollections of him. Two of the stories concerned Canvey elections. At a stormy meeting held in the former Village School (now the Village Hall) when Mr. Chambers was speaking on Urban powers for
Canvey he was shouted down. Mr. Chambers promptly jumped on to the school master's desk saying. "I will be heard" — and he was! On another occasion, speaking at an election meeting at the Rendezvous Club (since burnt down) he disagreed with views expressed by other candidates and their supporters threatened to throw him into a dyke. Canvey's one and only police constable (at that time) was called and order was maintained. This, said a reporter from this paper who attended the meeting, was mainly due to a candidate who had drunk not wisely but too well who propped himself up by the platform and remarked at intervals, "Poor wascal, poor wascal." Mr. Chambers was returned at the Poll on that occasion.
Mr. Chambers' children are Councillor Mrs. E. Fisk, J,P. (daughter) and Mr. H. Chambers (son). The funeral took place yesterday (Thursday) at St. Katherine's, Canvey.
More can be read about the Chambers Family here.