These were very happy days and the family spent much time swimming in the creeks at the end of Rainbow Road (now Kings Park residential mobile homes).  In those days the creeks were full of house boats and were a popular place to live for many local families.
Dad's first job after the war was as a local milkman for the co-op and in those days it was hard work just pulling the milk cart and trade bike up and down the unmade roads.
In 1948 the family moved into a brand new council house at 54 North Avenue.  The mod cons were incredible and for the first time they did not have to bury their human waste in the garden and the tin bath was scrapped for modern sanitation, a bath with running water and a bath that emptied its self wow mod cons !!!!
In 1949 the second son Stephen was born.  At this time mum was working as a house maid for Dr & Mrs Stevens.  Dr. Stevens was the only doctor on the Island and often worked 24 hours a day 7 days a week on call.  They treated her like one of the family and she loved her time working for them in fact Stephen was named after the doctor.
The doctor's surgery was then on the corner of Long Road and Kit Kats Road which is now the Abbeyfield Residential Home.
Things were very hard for everybody after the war and our family was no exception, dad was working very hard as a milkman and in his spare time worked for Dr. Stevens as a gardener.
When the doctor retired they returned to Ireland to live.
In 1952 the third son Alan was born, but sadly Alan past away when he was ten days old.  Mum  and Dad had started to take a keen interest in local politics.
We were living in North Avenue when on the 31st January 1953 King Canute decided to pay the Island a visit.  As a retained fireman, our dad was called in the early hours of the morning to help with the floods.  We had no idea when he was called out what was happening and we all went back to sleep.  The first we knew of the disaster was when one of dads colleagues in the fire brigade came running down the road shouting and knocking on the doors to wake everybody and tell them of the flood.
Mum left a note on the piano for dad telling him that we had gone where everybody else was going but she did not know where.  We left our house and crossed the road to Milly Kennelly's garden as it was higher and out of the water.  We walked up the old Camp Road and then picked up a lorry in Long Road which took us to King John's School in Benfleet where we stayed until it was safe to come home.
We did not see our dad for 5 days and just by chance he came into the school searching for us, he was asking if anybody had seen his family when mum opened the door and walked into the canteen.  Dad and Ron Bird who was our neighbour and also a retained fireman, looked exhausted and dirty as they had not slept for days.  They could only stay a few hours before they had to return to the Island to continue with the relief work.
When we finally returned home we could not believe our eyes as the water and mud had flowed through the house and had left its mark.  We were so lucky at least we were all safe and only had to clear up the mess but there were many others that were not so fortunate.
After the floods there was so much work to be done in the community and it was about this time that dad realised his desire to help others and he decided to put up as a local Labour councillor.  He was elected and become actively involved with the community and chaired many of the committees on the council.
In 1954 the Forth son Anthony was born.  Tony was a beautiful baby and won trophies at the local baby shows.  There was and still is never a dull moment when Tony is around.
In 1956 Sylvia became married to James Trevillion and moved out of the family home.  This was to be a god send as whenever the boys wanted to leave home they had a big sister that would welcome them in until mum finally caught up with them.
To help make ends meet mum went to work in the evenings at E K Cole (Egan's) in Canvey Road (now Camping & General at Charfleets).  Although the money was handy mum's time at Egan's was to be limited as she was now very active in the Labour movement and she became the local shop steward for the factories union.  After crossing swords with the management on too many occasions mum was asked to leave as they did not want an active union movement in their factory.
Mum was now beginning to become very active in the Labour movement with dad and her strong beliefs took her on the national Ban the Bomb march at an American Air Base.  She belonged to the women's section and worked alongside all the other members to raise funds to purchase their own premises for the local headquarters.  After some time and hours of hard work running jumble sales etc. they achieved their goal and purchased the old ice-cream factory in Lionel Road in 1960 and this is still the local Labour Party headquarters today.
Dad was Chairman of the Labour Party in 1960 when Bessie Braddock opened the new hall.
In 1961 Barry was married to Jill Phillips and their wedding reception was held in the new Labour Hall in Lionel Road.  In the early 1960's the new fire station was opened in Long Road and shortly after Dad was promoted to Sub – Officer and became the officer in charge.
In 1963 Mum was elected as a Labour Councillor making an awesome duo of both Mum and dad as local Councillors working together for Canvey which at the time was quite unique and very effective
After many years of petitioning for children to attend nursery-school at our main schools, mum lost her patience and she encouraged our sister Sylvia to open the first preschool on Canvey in 1966 at the Labour Hall in Lionel Road.
Although this was a very sad time as our sister and her husband Jim had just lost their son John in a road traffic accident it encouraged the family to provide a facility for small children to mix before they joined the infant's school.  Shortly after mum and Sylvia run the nursery together and there were many happy times and funny moments.  On one occasion a mother came up to Sylvia and asked what was going on as her little girl had come home from school and said that auntie Sylvia's teeth had fallen out and auntie Milly's hair had come off her head (This incident was caused by Sylvia sneezing and her false plate dropped out and mum ducked under the paintings that were drying on the line and caught her wig which came off).
On the 1st March 1967 Steve was working in the council offices and decided to join his dad in the fire station at Canvey, again another unique occurrence as there are not many father and son duos in the fire service where the father is the son's officer in charge.  Dad finally retired from the fire service on 8th June 1978.  At this point we should mention that the fire service became a family tradition and we proudly had 4 generations of firemen.  Dad and Uncle Son who were retained at Canvey then Steve who became a Senior Officer at the Fire Brigade HQ, next Sylvia's son Martin Trevillion joined and became an Assistant Divisional Officer and the Liaison Officer for Basildon District and finally Lee Blackwell who became a fireman at Basildon and has now transferred to Perth Fire Brigade in Australia.
In 1968 Stephen was married to Hilary Sutton.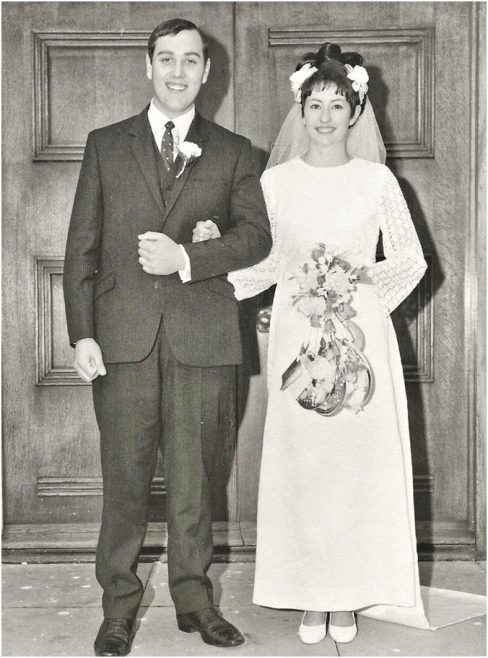 Tony was to follow in the marriage stakes in 1972.  However, we have decided not to log Tony's marital status as there have been several attempts and we do not have the time and inclination to write it all down.  However, suffice to say, he is now very happy with his partner Gina.
It was about 1975 and all of her siblings had flown the nest and mum needed something to fill her time, so she took a position as the warden of the elderly persons sheltered accommodation at Willalla House in Popular Road.  She thoroughly enjoyed this period of her life and it cemented her feelings for helping others.
When Mum finished work Mum and dad moved to Waarem Avenue.  Mum became more involved with the playschool as Sylvia had left the school to become a receptionist at the Graften Road doctor's surgery.  Mum and Dad moved to Zider Pass for 2 years and then moved to East Bergholt in Suffolk in 1985.  They loved their new home but made a point of travelling home every week to Canvey.  However, the location was rather remote and they became cut off by the snow in winter.  This encouraged them to buy a new house in Little Clacton where they felt more at ease with the location.  It was at this address that they celebrated their Golden Wedding Anniversary in 1988.  It was on this auspicious occasion that my brother Barry started to calculate exactly how old my sister Sylvia was and when mum and dad were married (nudge, nudge, wink, wink).
Although they loved their time at Little Clacton they became home sick and moved back to a house in Beach Road, Canvey in 1999.