Connie Johnson RIP
Sent in by her son Thomas Johnson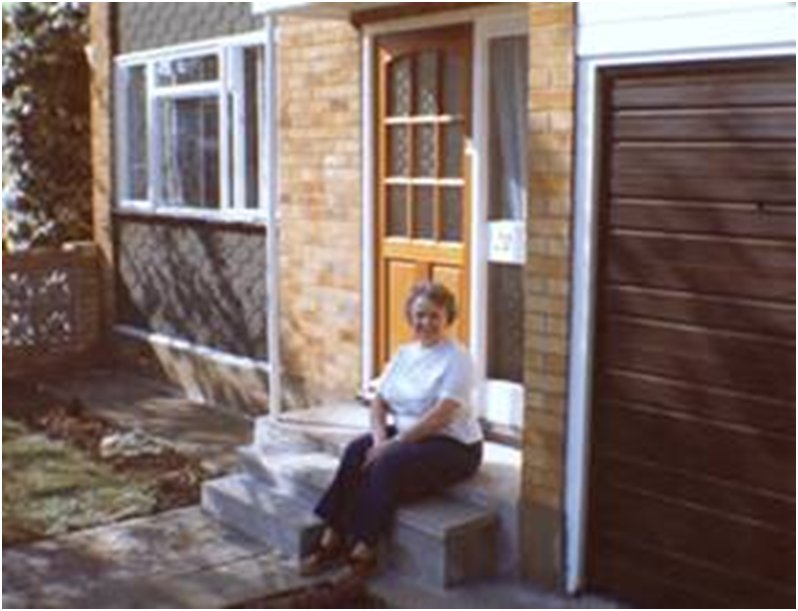 Attention!! Connie has left the building and what a performance! She and husband Lewis ('8th Army Dessert Commando') moved to Canvey in 1953 helping to restore Lewis' parents' home, the seafront terminal for Hester's Winter-gardens railway after the 1953 Flood. Lewis' family were early settlers during 1920-30's and ran one of the first large Canvey boarding houses just off Eastern Esplanade. Connie carried on the tradition from early 1950 until beginning of the Jet-age and the seaside holiday industry collapse in the 1960's she then helped Lew rebuild Canvey in the post-war building boom and finally she became instrumental in establishing many of the fledgling business that flourish to this day. We were all touched by Connie's presence a truly rare attribute in this modern age.
Connie enjoyed a long and eventful 86 yrs. She started life in Edmonton, North London in what would now be considered a large, but then was an average sized family of 4 brothers, 2 sisters. Her father initially worked in the Docks later becoming head of a well-known family of Asphalters; her mother cared for the family, the standard family structure of the time. Life was reasonably good they never experienced financial riches, neither were they classified as poor, possibly what was called lower middle class they were happy and an extremely close knit family.
Connie had aspirations of show business as school girl she attended tap-school (first step up the show-biz ladder) whilst there she rubbed shoulders and possibly legs with many entertainment legends; Shannie Wallace. (West end Theatre and the Film Oliver) Bruce Forsyth (TV entertainer) to name a few and many other now wrinklies from the entertainment and film industry, however she always acknowledged she wasn't the brightest spark in the woodpile and in those far-off days stage careers were often frowned upon.
During early childhood the World and life in general began to change fast when aged 6yrs the first TV programs were broadcast from Alexandra palace then age 9yrs War was declared. The docks and surrounding area were targeted every night for maximum destruction consequently the family evacuated to Wiltshire. Despite wartime, this move turned out to be the one of the most enjoyable of their lives. She often recalled with great affection happy times with the Swift family who ran the boarding house where they initially stayed before finding their own property in Marshfield where she quickly became a country girl. Aged 14yrs at Wars end, they returned to a much-devastated London. Because of massive destruction to the East-End, they finally settled near White Hart lane Tottenham. (Across the road from football ground)
Now an older but still young impressionable teenager the V.E day celebrations exploded, like a ray of hope in the otherwise gloom & austerity of post-war Britain, like all civilians released from years of stress, both she and her sisters lived the moment to the full, travelling to Trafalgar square and joining the celebrations & merrymaking along the Mall, celebrating the end of 6yrs War. Those times were often recalled with fond memories and often a tear in the eye.
After the merrymaking back home in Tottenham, she was in the back-garden when a freshly demobbed soldier lodging next door peered over the fence. Being a fresh young man he tried some 'chat-up' lines. When asked about this opening contact she often recalled "I wasn't impressed" and at the time didn't think much of him or his chat-up.' Nevertheless, he persevered, after trying numerous variations and finally 'walking out' for some time, the young man (Lew) nervously popped the question.
Eros had been greatly impressed and loosed his entire quiver of arrows. Things were to change dramatically unknown to both of them this was the beginning of a lifelong 'stars in their eyes' romance lasting 65yrs+. Nevertheless Connie used her prerogative & kept him waiting before finally saying yes. She was now 16yrs and worked as a Nippy (waitress) in Lyons corner house Strand in London, saving her wages  for her future wedding, however she eventually left Lyons and did something completely different working in Whitbread's brewery Brick lane Spitalfields until a serious accident cut short her career. Finally, upon reaching 21yrs Lew and Con married in Sept 1950, the rest is history. Con became pregnant in 1951 they moved to Leicester Sq. then Soho for a short time in January 1953 the East Coast Flood  happened Connie & Lew moved to Canvey to help his parents recover. After much restoration and re-decorating the newlyweds gently settled to what would become a long and blissful married life.
The early 1950's, were the era of regeneration, being a Carpenter and Joiner/builder Lew had masses of work, Connie initially worked in various capacities locally, making numerous friendships that were to last a lifetime. Eventually Lew modernised his parents' large bungalow into one of the first large purpose built Boarding houses on Canvey.
Connie became a Seaside Landlady, after converting the property into a 10 bedroomed five apartment boarding house they enjoyed numerous happy times with clients many on their first ever holiday or trip away from home. However a Landlady's work is exceptionally hard, cleaning and preparing. When Jet- age holidays started in the early 1960's the market for English seaside holidays collapsed. Connie now in her thirties was secretly relieved, because it gave her a rest and more time for herself.
In her mid-thirties, she initially helped Lew rebuild Canvey in the post-war building boom she then worked locally for many years for a close friend in the catering industry, in what used to be called a 'Working men's Café' stating it was probably the most enjoyable and fun- time of her life. She often recalled with affection the fun- times whilst working in the 'Roadhouse Café'. Unfortunately, 'Lil' (Lillian) the owner, died suddenly and after 20yrs friendship & working together this devastated Connie.
After his war experiences ('8th Army Dessert Commando') Lew didn't want to travel abroad, instead they toured as much of the UK as possible seeing the country at just the right time before mass tourism took-off destroying the experience. Those were happy days holding great memories and often recalled with fondness by the three of us.
Lew, in his early 40s, found work on many Prestige construction projects involving power stations both oil, and the fledgling nuclear, as such he was involved in major projects from the mid 1960's onwards  including Kingsnorth dual fuelled and Grain (800ft chimney), the largest Oil fired power station in Europe plus Dungeness A & B Nuclear power stations in Kent. Afterwards he was involved in the construction of many large new town projects (Basildon and Harlow) and various Care homes in this part of Essex as such many a pensioner has cause to thank him for their accommodation.
However, the building boom was nearing completion and in the late 70's to early 1980s the collapse of the post war building industry appeared imminent; fortunately, the final collapse didn't happen until after his retirement in 1987.
Lew enjoyed 23 years of retirement, making new friends, pottering about around the house and exercising his gardening skills. They both used this period to further explore the countryside mostly Devon and Cornwall and especially the 'country houses' in Essex together with days out to local country pubs etc.
The first long holiday expedition as a family was in the early 1960's our first to a foreign country, 'Wales'. Dad bought a comma caravanette to use for touring. The planning for that trip was long & intense and the anticipation and the excitement built to a crescendo, finally the off, after many hours driving we reached the border of this strange foreign land, no big deal nowadays, but, in those far-off pioneering days this was a true adventure and for all of us the excitement of what lay beyond the black Mountains was intense. We toured Wales top, bottom and all points in between. When on the way home we drove through the valleys, stopping to sleep one night at the side of the road only to be woken in the early hours by the screeching thunder of an early jet fighter screaming up the valley  about 100 feet of the ground. (This was a time when jet aircraft were dreams, unheard of and unseen they had only just been developed and this was one of the first prototypes) after we calmed down we went for our morning wash in a cold unpolluted mountain stream (an early ensuite) and Connie slipped on a stepping stone and fell in taking the proverbial early bath still remembered 60yrs later.
Continuing our homeward trip we detoured to visit Dad's brother on the farm in Wiltshire. On the way we stopped at a small town visiting an Army surplus store to sell back equipment no longer required, whilst there a car was driven straight down the high street and into the river at the end of the street much to amazement of passers bye. The car floated and then motored along the river for approx 100yrds finally driving out and back up the high-street. We later discovered it was a prototype amphibious vehicle being tested for the Army and a forerunner of the Hovercraft.
We eventually arrived at Dad's bothers farm where mum decided to learn to drive, lots of empty space (you would think) but there was one tree in a field and mum tried reversing yes you guessed, almost hit tree. There endeth the driving lessons. Back to the bicycle!
We eventually arrived home after an extremely enjoyable, eventful and tiring holiday only to find that Mum's friends dog had given birth to six Golden retriever puppies we had one and called him Sandy when only a few weeks old we were washing him when he fell into a bucket of cold water Mum had the idea we place him into a low heat gas-oven to dry him out (nowadays would be prosecuted for animal cruelty) but all was well he survived and lived for another 18 yrs. If dog years are equivalent of 9 dog years to one of ours then sandy was 162yrs old when he finally died of fur- ball stuck in throat. Sandie's death deeply upset the entire family, mum in particular for many weeks, however we eventually got over it and life continued. I left school and mum started work in a drapers shop on Canvey unfortunately after some years the owner died from old age.
Unfortunately time was also catching up with mum, in her early fifties she suffered meningitis then ulcerative-colitis finally suffering Osteoarthritis, initially thinking this was just a sign of old age. She eventually required a hip replacement which left her with a limp and pain consequently this curtailed mum and dad's daytrips.
Canvey was changing fast; friends were dying off so they decided to move and bought a large new bungalow in a small Norfolk hamlet. However, because dad worked each day it was very lonely in the village and public transport was virtually non-existent and winters were very severe with heavy deep snow most years. After three years they returned to Canvey settling back into familiar surroundings.
36years ago they moved to their present home intending to finally settle. Unfortunately, the years catch up with everyone sooner than planned. After going into hospital for only the second time in his life dad passed away unexpectedly on 1st June 2010. It was their Golden wedding anniversary year which they never got to celebrate together this greatly affected mum.
She had been suffering Osteoarthritis which greatly limited her mobility and she endured great pain in all her joints for many years until one morning, 13th April 2013, upon waking she had a major stroke losing all mobility of her left side. Not only was her mobility severely restricted, she never recovered from the sudden death of Lew and remained depressed for many years.
So to the final chapter; as previously indicated she had a long, full and hopefully enjoyable life during which she always showed great compassion for others maintaining friendships which often lasted for 60yrs.Unfortunately life catches up and all good things come to an end. After her initial stroke she became increasingly frustrated she would not walk again, she tried hard to exercise her legs; regrettably it was not to be.
Connie died on the 28th April 2017.