The Ozonia and Marlborough Hotels
1950s and 60s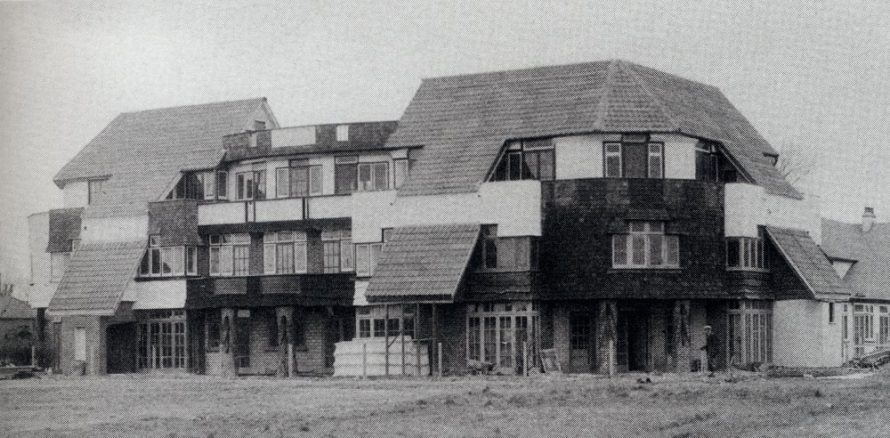 I list below memories of "Fielders" sometimes Ozonia stores then Chapman now Ozonia Flats situated at the Esplanade end of Seaview road. I cannot remember my exact age, however I was still in shorts & the chasing fire-engine stage of childhood. So approx early to mid-1950's  also the Chapman light was still in place that was not demolished until 1959.I have another series of memories about that and the passing up/ down river of the paddle steamers 'Daffodil' 'Medway Queen' and 'Royal Sovereign' together with many others  to come later. Anyway; Onwards,
This area of the island  has always been the Cinderella and  was laid to grid pattern bounded North- South by High Street the Eastern Esplanade & sea wall and East –West by Leigh beck lane(No football ground in those days) inclusive a reduced in size diminished trading Coxes Stores which at the time was trading as a small combined  off-licence/newsagents before finally closing. To the West the grid was bounded by Gainsborough Ave and Kismet (a small ancient woodland area) with Crescent Rd. Marine Ave and South parade meandering a link from the West to Eastern boundary.
In the early/mid1950's everything within this grid was fading it appeared other areas had begun rejuvenation but our end was missing out, whilst the majority of the island appeared to have full services, I remember we still collected our water from large butts within the garden and everybody used cess-pits emptied once a month by "night soil men". There were one or two electric lamps strung along the roads but we mostly used candles, it was not until the mid/late-1960's that full services and sewers were installed for everybody. In the early 1960's the majority of side roads were still thigh-high grass-tracks being treacherous mud baths after rainfall, you merely followed the ruts when dried out. The only 'made-up' roads (rough 10x10ft concrete slabs) were the Crescent Rd, Marine Ave link to South parade plus, Seaview Rd and the Eastern esplanade.
Fielders stores were a large fast-deteriorating block located at Esplanade end of Seaview road, the property had seen better days and was in poor repair (broken windows, rats, etc). It was a two storey building with a three storey inhabited extension at one end overlooking the estuary the two storey end was in front of Coxes stores with one end of Dovercliff road between them both.
Having been used by the Army during the war it still retained its faded khaki paint and a shroud of thick dust now being used as a storage facility for bedding and mae-west life preservers, all local kids prized the building using it as adventure playground climbing through broken windows playing hide & seek, tag swinging like Tarzan from stairs.(we were happily amused  less demanding in those days).
Over years there had been numerous unexplained break-ins and fires within the building but all were successfully extinguished by locals, or the fire-brigade, the building had become an eyesore. However the final fire was enormous attracting all like the pied-piper it drew all the kids and parents like bees to a honey pot! With  five/six fire engines with a large ladder engine in attendance from Southend this would be a major topic of conversation for months. For us kids this was something to light an otherwise dull existence, this was exciting we ran from all over to watch we needn't have rushed, the fire continued for hours the building was totally gutted and remained derelict for ages. The inhabited end continued for a short time but eventually the residents slipped away and the council assumed responsibility for the derelict property, it remained in an abandoned state for some time. Until finally one day work began and the rest is history (for a younger individual to recall in the future).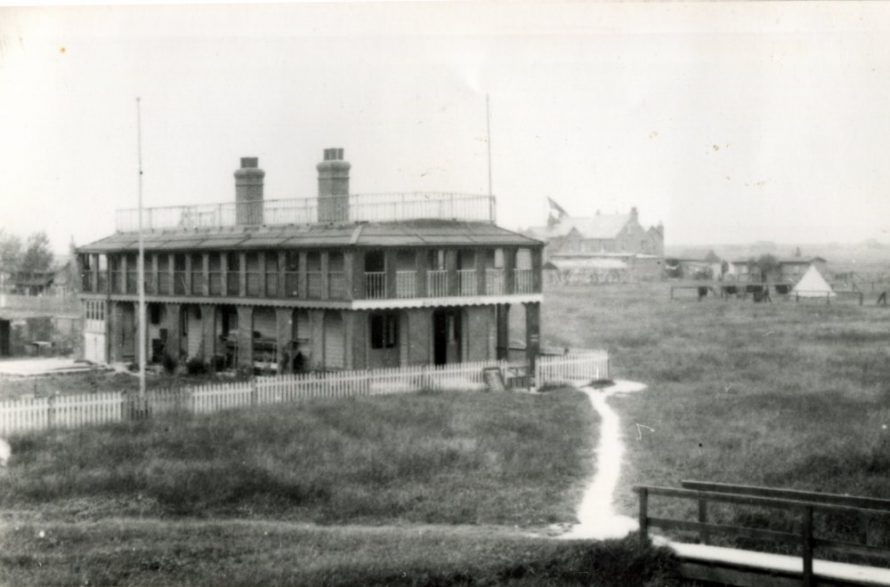 Another long forgotten 'Lost' building from that era is the Marlborough House café a large rambling building with low lying veranda to the front, and corrugated iron/tin roof with the building painted green all over and situated on what is now a grass field between Station Rd, Seaview Rd and Eastern Esplanade. I have memories of an old man and woman, I think his name was Charlie, giving us young lads 'pop' or cup hot tea and sweets sometimes a cheese WAD (as sandwiches were called in those days) after we had been either swimming off the Chapman jetty or sailing our boats in the now covered seafront Dyke. I remember in the mid to late 1950's the first room you entered being an open fronted dual café tearoom, with masses of cane back chairs and a few tables together with low ceiling, (however I was a tall child). The interior being like the inside of an old ship, all sailing memorabilia ships wheels, nets, ropes, blocks, tackle etc. all hung to decorate the room and give effect together with the sand on the floor. All complemented by a large wood burner stove situated middle of room. No such thing as elf and safety or food hygiene in those days but hey! We're all still standing. The Marlborough was designated a Hotel, however it was in competition with nearby long established Guest houses such as my grandfather's /fathers establishment named 'Dalwhinnie' at the junction Marine Ave, Station Rd, South parade, the Elliot lady's establishment for 'refined young ladies' (yes that was its name), located in Station Rd opposite our front garden and another café guest-house establishment further along the seafront I believe named  Shell beach café near Shell Beach Rd. Therefore the Marlborough principally traded as a successful Café -tearooms especially for the summer trade. In those days there used to be a large Dyke running the length of the esplanade from Leighbeck to the Casino passing in front of the Marlborough and running along the bottom of the then earthen seawall.
Adjacent to the Marlborough and across Seaview road towards the Chapman sailing club, there was situated a brick built arc shaped shelter approx 100ft arc by 10ft tall with two open areas at each end which later became enclosed deckchair stores with originally a fishing tackle shop then ice cream + sweet kiosk in the centre dividing section complete with Male and Female public toilets with attendants in space behind shop. (Not very hygienic, however very convenient oh! almost a joke –almost.) It doubled as bus or rain shelter for the sailors or fishermen on Chapman jetty. (We always seemed to get more rain in those days!) The council refused to renew contract for loo attendants or the Lease on kiosk hence both moved out, council forced to pay for upkeep finally lost interest and demolished the block sometime late 1950's early 1960's all that's left is an empty field with cement footings and a footpath leading past the Chapman sailing club and Ozonia Flats into Dovercliff Rd.