Anger as D-Day barge is wrecked by sailors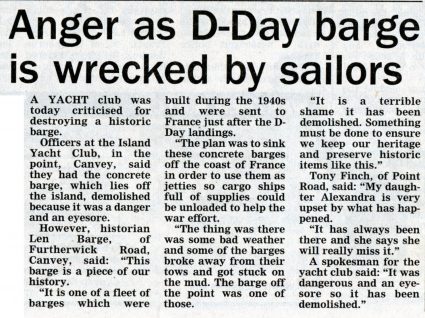 A yacht club was today criticised for destroying a historic barge.
Officers at the Island Yacht Club, in the point, Canvey, said they had the concrete barge, which lies off the island, demolished because it was a danger and an eyesore.
However, historian Len Barge, of Furtherwick Road, Canvey, said: "This barge is a piece of our history. It is one of a fleet of barges which were built during the 1940s and were sent to France just after the D-Day landings.
"The plan was to sink these concrete barges off the coast of France in order to use them as jetties so cargo ships full of supplies could be unloaded to help the war effort. The thing was there was some bad weather and some of the barges broke away from their tows and got stuck on the mud. The barge off the point was one of those. It is a terrible shame it has been demolished. Something must be done to ensure we keep our heritage and preserve historic items like this."
Tony Finch, of Point Road, said: "My daugh­ter Alexandra is very upset by what has hap­pened. It has always been there and she says she will really miss it."
A spokesman for the yacht club said: "It was dangerous and an eye­sore so it has been demolished."