D-Day row over Len Barge's barge
Historian defends importance of 'old eyesore'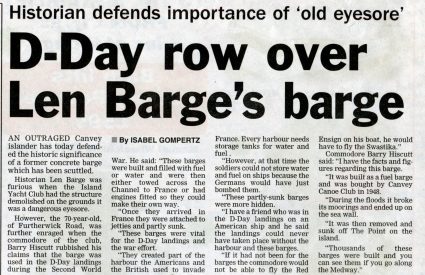 An outraged Canvey islander has today defend­ed the historic significance of a former concrete barge which has been scuttled.
Historian Len Barge was furious when the Island Yacht Club had the structure demolished on the grounds it was a dangerous eyesore.
However, the 70-year-old, of Furtherwick Road, was further enraged when the commodore of the club, Barry Hiscutt rubbished his claims that the barge was used in the D-Day landings during the Second World War. He said: "These barges were built and filled with fuel or water and were then either towed across the Channel to France or had engines fitted so they could make their own way.
"Once they arrived in France they were attached to jetties and partly sunk. These barges were vital for the D-Day landings and the war effort. They created part of the harbour the Americans and the British used to invade France. Every harbour needs storage tanks for water and fuel. However, at that time the soldiers could not store water and fuel on ships because the Germans would have just bombed them.
"These partly-sunk barges were more hidden. I have a friend who was in the D-Day landings on an American ship and he said the landings could never have taken place without the harbour and these barges. If it had not been for the barges the commodore would not be able to fly the Red Ensign on his boat, he would have to fly the Swastika."
Commodore Barry Hiscutt said: "I have the facts and fig­ures regarding this barge. It was built as a fuel barge and was bought by Canvey Canoe Club in 1948. During the floods it broke its moorings and ended up on the sea wall. It was then removed and sunk off The Point on the island. Thousands of these barges were built and you can see them if you go along the Medway."