Yacht club broadside on historical 'liability'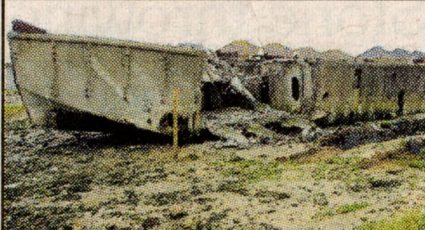 Historians are calling for action amid claims Roman artifacts may have been lost forever at Canvey. Bosses at Island Yacht Club, off Canvey Point, caused a storm after they removed an ageing World War Two vessel from adjoin­ing salt marshes.
The site is a former Roman colony, which experts claim could be one of the most important in the UK.
Chris Ekins, chairman of Rochford Hundred Field Archaeology Group, said members met at Canvey Road on Monday night to dis­cuss what action could be taken against the yacht club. The group regularly carries out excavations around the site and recently discovered an Iron Age wooden track there. He added: "We are extremely disappointed by the action of the yacht club. They know how important that site is and they failed to let us know what they were going to do. I'm appalled."
Fellow historian Albert Payne, of May Avenue, Can­vey, is spearheading a cam­paign of action against the yacht club. He described the site as an 'archeological joy' and said he was disgusted by the yacht club's actions. He added: "I'm spitting. The club has committed an act of vandalism by removing that barge. Roman kilns have been uncovered nearby. Who knows what they might have destroyed?"
Mr Payne also criticised Castle Point Council for fail­ing to refuse an application from the club to position a pontoon off-shore. He added: "The council have no regard for Canvey's heritage or history.
Yacht club commodore Barry Hiscutt dismissed the claims, insisting the barge had been removed for public safe­ty reasons. He added that a planning application for the floating dinghy pontoon was put for­ward in March after a 'favourable meeting with English Nature and Castle Point Council'.
He said removal of the concrete barge was obtained in 1988. He added: "It was now decided that due to the fact the barge had deteriorat­ed so badly, and was being used not only as a toilet, but for taking drugs and drinking by underage people, it was becoming a liability to the club. The thought of a child being injured, or at worse killed was not something the club was prepared to under­take.
"As far as it being of any historical, ecological or mem­orabilia value, it had none." The Canvey Canoe Club bought the barge back in the early 50s. It was floated away from the sea wall and holed to sink in the mud. Mr Hiscutt said the club was very well respected in sailing and yachting circles and enjoyed a rapport with the PLA, English Nature, wildfowlers and the local council.