UDC of Canvey Island Year Book 1972-73
Coat of Arms
I have just been given some Council year books and as well as being a great source of information, this one I found quite interesting as it shows the new Coat of Arms as it first appeared after being granted in 1971. It also gives a lot of detail of its meaning, some of which has been covered in other pages on the site, but also who designed it and who won a competition to find a motto to go with it.
~~~~~~~~~~~~~~~~~~~~~~~~~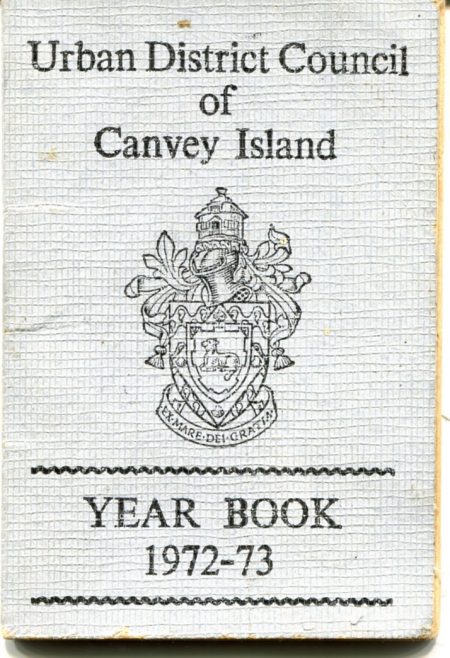 Armorial Bearings were granted to the Council on the 5 January, 1971 and were received at a formal ceremony on the 3 April, 1971 on the occasion of the Council's Annual Civic Dinner and Dance.
The heraldic description of the design is "Barry undy argent and azure gutty reversed argent on a lozenge throughout vert a fat-tailed sheep couchant proper within an escutcheon voided embattled over all or between four oyster shells proper and for the crest on a wreath or and azure on a mount of earth a representation of a Canvey Island Dutch cottage all proper".
In simple terms the background of the shield is shown with blue and white wavy lines symbolising the River Thames and creeks surrounding the district which are such an important feature of Canvey Island's topography. The blue wavy bars have on them white droplets representing the early local activity of salt extraction. The Island itself is represented by a green lozenge on the corners of which are four oyster shells which appear in token of their local significance in the Island's history and economy. The fat-tailed sheep, in the centre, alludes to the flocks of sheep which once roamed the Island and also provides an incidental reference to the local cheesemaking industry of the past. The sea walls of the Island are pictured by the inner golden escutcheon, the inside of which is embattled to represent the reinforcement of the walls. It is interesting to note that the embattlement is divided equally into seven parts and this feature alludes to the seven main sluices that were an important part of the Island's drainage system. On the crest is a representation of the Island's Dutch Cottages, two of which still remain today, one being owned by the Council and used as a small museum.
The Motto "Ex Mare Dei Gratia" meaning "From the Sea by the Grace of God" was selected by the Council, following a local competition, due to its particular significance to Canvey Island in the way that it was changed from a place which, for hundreds of years between the Roman Occupation and the Anglo Saxon settlement, was wholly or partly covered by the sea, into a place capable of supporting a thriving population of many thousands. The Arms were designed by the College of Heralds and the Motto was suggested by Mrs. Madeline Calton of Canvey Island. April, 1971.