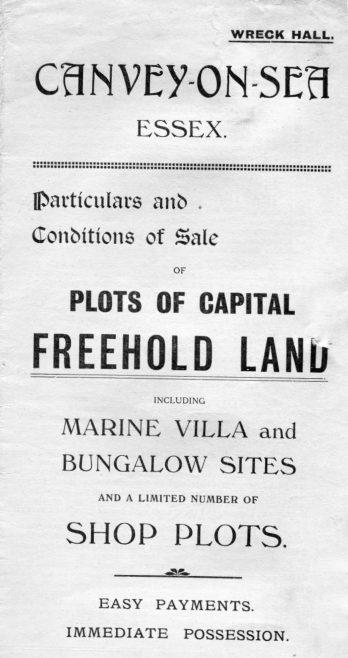 In the 1920s plots from one of the old farms, Wreck Hall, were up for sale.
AM Clark the Landowners were selling off 'Plots of Capital Freehold Land' for about £30. The market was for Marine Residences, Bungalows and Villas plus some shop plots.
There is capital accommodation at Hole Haven, within easy distance of the property, for Yachts and Boating, and as there is always plenty of water available, Yachtsmen and Boating Men can always get afloat without the great drawback of waiting for the tides.   There is also capital wild fowl shooting.
NOTE.—A scheme has been suggested with a view of constructing a Railway and Docks on Canvey Island, in which event the land would rapidly increase in value. The erection of a bridge for general traffic purposes from Benfleet to Canvey Island is hoped for, which would also add greatly to the value of the land.
We have several articles on site about Wreck Hall but the map found below will show clearly what was for sale. Is your property part of the Wreck Hall Farm. Check out your deeds you might be surprised.
click to see an enlargement