Similar to the Kursaal
The Sivados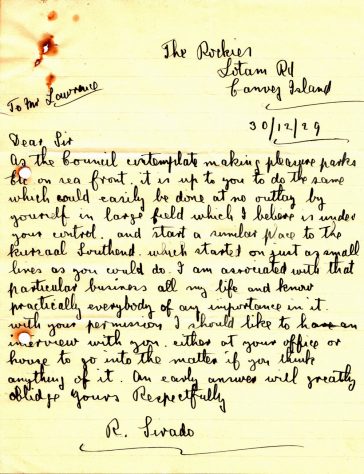 Marie Brown Sivado (Marie the Palmist) married Dick Monte (aka Richard Monte-Williams) in 1942, she was Dick's second wife. According to Dick's granddaughter Marie Brown Sivado who resided at New Hazelwood, Remo Ave was the daughter of Edmund Temple, Captain H.M. Navy, but in her early twenties she had married Charles Brown of the acrobatic troupe the Flying Sivados. In the 1929 Electoral register Richard and Marie Sivado were residing at 'Tazell', Provost Road, Canvey. Does anyone know where Provost Road was?
In this letter dated 1929 from R. Sivado to Mr Lawrence, Richard, who was then living at 'The Rockeries' in Lotam Road, Canvey, he is talking about pleasure parks etc on the sea front. Apparently this was a council idea and R. was telling Mr Lawrence he should be doing the same with the land owned by AM Clark. R. suggested starting a similar place to the Kursaal in Southend. R. also stated that he had been associated with that particular business all his life and knew practically everyone of importance in the business. He went on to suggest a meeting to discuss but this was declined due to 'all matters between the Council and Mr Clark are in abeyance'.  We assume the R. Sivado is Richard as there are no other Sivados listed on the register.
With the family being in the entertainment business names get changed and difficult to trace them.