The following is from the 1931 Captivating Canvey Guide:-
St. Anne's Canvey Social and Athletic Association :-
This Association was started with the object of providing suitable facilities for a local cricket club, and has been extended to do the same for football, tennis and other outdoor recreations. The various games sections are conducted in a democratic way, and the Association has four acres of ground situate in the most central portion of the Island, permanently available for sports and athletics. Through the generosity of A.M. Clark Esq., a large owner of land on the Island, a fine hall has been erected, complete with stage, etc., and which is used for Social events, and it is hoped to greatly extend the activities of the Association on its social side. It is run on: club lines for the benefit of the members of the Associati­on,and is the only unlicensed club on the Island. The yearly subscription for membership of the Association is 5/-.
In the 1920's the St Ann's Canvey Social and Athletic Association raised money to build a club house. Land was found South of Long Road to the rear of William Read School along with a strip of land 10 foot wide to build an access road. This was part of Oysterfleet Farm and belonged to A M Clark who had purchased the farm from Frederick Hester in 1903. (See maps below)
In 1927 builders were approached to give quotes to build the club house, with prices quoted ranging from £395 to £630. The builder J S and G A Allen of the High Street, were eventually appointed with proviso to have the building finished by the end of the year.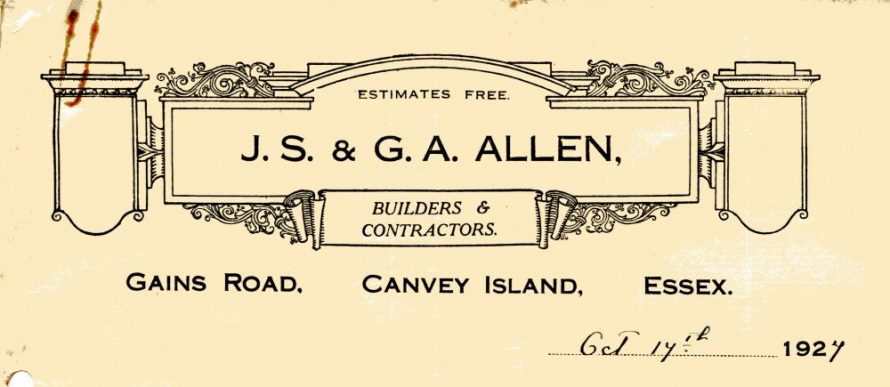 The building was to be of timber frame with windows, a stove, veranda and a stage. No other information is available at this time.
The following year the builders were approached to add cloakrooms to the site. From a letter to the builder in June of 1928 we can gain some knowledge of the facilities at the time.
Briefly, the specification is as follows:-Double floors of P S flooring laid crosswise. Remove balusters and handrails, fitting 2×4 studs at 2' centres, covered outside with planed, rebated and chamfered featheredge to match existing.Gents Dept. ie the South end of Pavillion,to be provided double flap doors, 3' high x 4' wideoverall, 3' from ground level. 18" counter ledge of 1" material, provided 70 pidgeon holes for cloaks, about 16" wide x 14" deep. Fit 2 barrel bolts to flap doors to bolt from inside.

Ladies . At North end of Pavilion verandah. Proceed as in Gent's, but provide no flap door, substituting one light casement window. To be provided with 70 pidgeon holes, as before.Lavatories.
Ladies'. At North end back of Pavilion, provide two chemical lavatories 4′ x 3′ inside, to usual construction. 6' x 3' weatherboarded lobby in front with 1″ matching door or equivalent. Particular care to be taken that the entrance is as obscured as possible from the Hall. 4″ Portland Cement concrete 1—6 to be laid carefully with falls to the outside and rendered smooth. 26 gauge corrugated iron roof with covered-in approach from French casements. North side to be protected about 4'from the door with featheredge boards.

Gent's. Provided one chemical lavatory as before, and leave clear space at least 4′ x 4′ for two buckets, and lobby at least 6′ x 3′ as before, protecting in this case on South side, and cover approach from French casements. 4″ light steel O.G. pressed gutter to be provided, and 2½ " R.W.P, to clinker dump. All painted on outside to match Pavilion. Inside to be given two coats washable distemper to approved colour.
If you can remember the hall or any of the people assiciated with it please comment below.