The Keegan family
Music Hall artists
This weeks Echo brought my attention to the Keegan family. The article mentions that in May 1933 the doctors and staff were left baffled …..when a 'SOS' message went out on BBC radio. The radio played the message 'Will Joe Elvin, a comedian last heard of as living in Wimbledon six months ago go to Southend Municipal Hospital, Rochford, where his sister Miss Ann Keegan is dangerously ill.' The Echo go on to say Miss Keegan lived on Canvey and it was then that bells started to ring.
We knew of Annie Keegan and her younger brother Frank but had not as yet come across Joseph Keegan (Joe Elvin). Annie, Frank and his wife Rosa lived on Canvey and a road Keegan Place off Chamberlain is named after them.
But what is the family story?
Their parents were Joseph Peter Keegan a Londoner, (1840 – 1901), an actor and music-hall artiste, and his wife, Annie Delaney who was born in South Africa. The couple who married in 1860 had six children Margaret, Joseph, Annie, Elizabeth, Christina (Christmas in some records) and Frank. Of all the children we have only a record of Annie and Frank living on the island.
Frank Morris Keegan, b1879, and his wife Rosanna Baldwin married in 1908. The first we see the couple on the island is in the 1929 Kelly's Directory which has the following entry: Keegan Frank, confectioner. High St. The 1929 Electoral Roll show Frank and Rosa living at 'Rosenook', Chamberlain Avenue where they are still living in 1939 with Frank's occupation is stated as Cycling Comedian.
The couple were well known on the island. In 1966 Aubrey Stevens bought six trick cycles from 76 years old Mrs Rose Cranston of Chamberlain Avenue, Canvey. Cranston and her first husband, Frank Keegan, were a music hall team who toured the country and France, Holland and South Africa during the 1920's and 30's. One of those cycles "The Dutch Clog Bike" is on display in the Dutch Cottage Museum. Mr Keegan used to ride his trick bicycles in Canvey Carnival, and when he retired, left the bicycles in the attic of his home. In earlier years Frank appeared with his brother Joseph (Joe Elvin) as 'Keegan and Elvin', including at the 1887 variety performance benefit for Charles Ash at the Royal Victoria Hall in Lambeth.
A little more information has been found in posts and comments on our site:
About the Kynoch Club: 'I believe there was sometimes entertainment on stage, often organised by Rosa Keegan who would juggle with cigar boxes and whose husband rode a monocycle. I believe he had been in the circus as had Rosa. She seemed old when I was young although she may only have been in her 50s or 60s. She was one of the characters of Canvey in those days.' 
Comment: Rosa and Frank Keegan performed at parties, I remember her Balloon Dances well.
Comment: Rosa used to juggle with cigar boxes in the Kynochs when I was very young and I think her husband was in the circus.
Frank died in February 1951 and is buried in St Katherine's Churchyard his abode was stated as 'Rosenook' 2 Chamberlain Avenue. His wife Rosa married again in 1958 to Robert Cranston. Rosa was still living at the same address when she died in 1970 followed by Robert in 1971.
Of Annie Sarah Keegan we have very little information. She never married and she was born in 1869 in Soho. She lost her mother in 1886 and at that time there is no sign of her father Joseph Peter Keegan. Annie was the eldest of the children still at home and they were living with their aunt. Her father is back by the 1901 census when Annie and her two younger sisters are all living with him in Streatham. Joseph Peter Keegan died in 1901. In the 1911 census Annie is with her sister Elizabeth and family. Annie had been making a living as a machinist.
We do not currently know when she came to Canvey as she does not show up in the 1929 electoral roll. But we do know she died in 1933 and is buried in St Katherine's Churchyard and her abode is stated as 'The Haystack', Canvey Island. She died in the Southend Municipal Hospital. So we come back to where we started and the mystery 'SOS' message.
Annie was in hospital suffering from Pneumonia but it was not thought to be serious enough to send out an SOS message and apparently it had not been authorised by anyone at the hospital. According to an article in the West London Observer dated 19th May 1933 it was Councillor H J Dilloway, the proprietor of the Haystack who contacted the BBC. Annie was housekeeper at the Haystack and it is stated in this particular article that it was done at her request as she did not have his address at that time and she wished to get in touch with him. Other articles, have slightly different accounts.
Who exactly was Annie's brother Joe Elvin?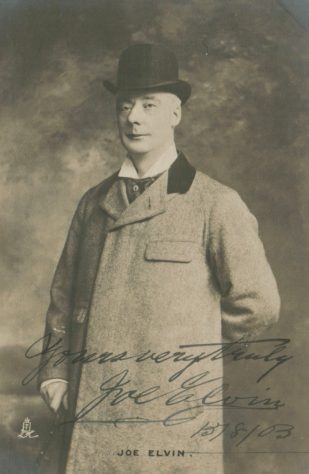 Joe Elvin, born Joseph Peter Keegan in 1862, was a titan of the Music Halls. He was the son of entertainer Joe Keegan, performing with him as "Joe Keegan and Little Elvin" when he was a child. He also performed with his brother, the artist known as a Frank Keegan. Joe's wife Charlotte was also a music hall performer. In 1889 Joe Elvin was a co-founder of the Grand Order of the Water Rats, with fellow Brixton resident Jack Lotto. He became King Rat in 1894. Elvin was also a founder of the Variety Artiest Federation in 1906 and a founder, with Joe O'Gorman of Brinsworth House in Twickenham, a retirement home for performers. 
Of the SOS message he said he was 'astounded and quite upset.' After making enquiries at the hospital he did not immediately visit her but one article says he was at her bedside with other family members when she died a few days later.