Stuckey Sisters
Their life on Canvey from the 1920s
Recently Joan Liddiard (nee Bishop) presented me with an old photo album and box full of documents relating to several Canvey families.
They had been rescued from an old bungalow in Rayment Ave that had belonged to the Capser Family, Canvey's Punch & Judy show operators. If you wish to read about the Capser family click HERE. Whilst some of the documents related to the Capser family, many more belonged to the Stuckey Sisters, including the photo album and the wonderful family photo above.
Our family historian Janet Penn soon went to work and we came up with the following information on the family: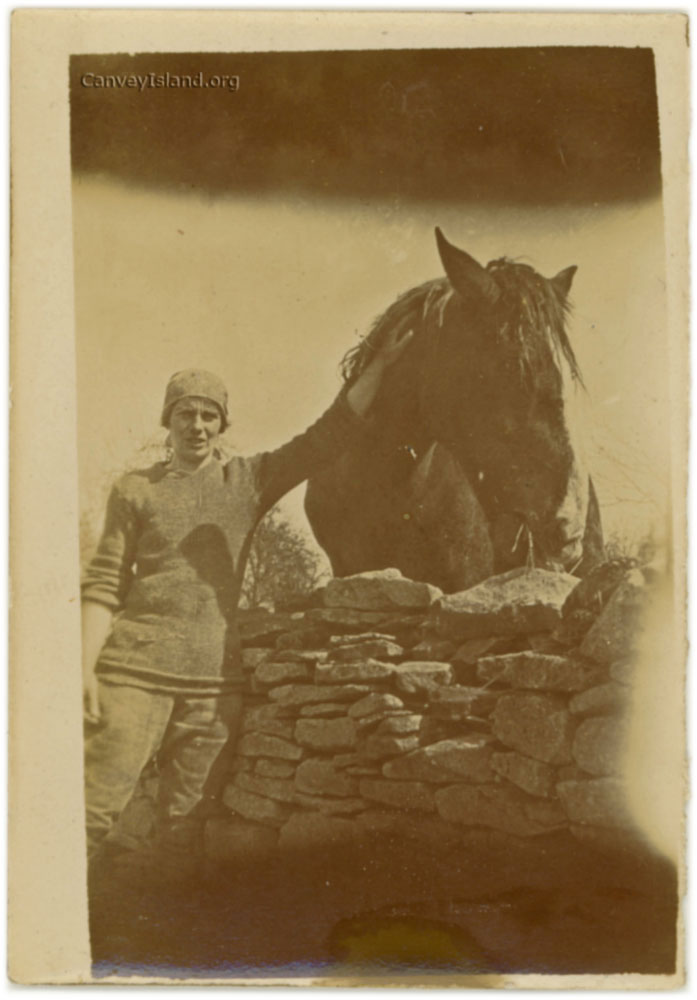 Their father Horace Stuckey had married Ida Annie Richards Dec qtr 1882 in Lambeth District. The children (all girls) were registered as follows:
Horatia Vera E                  Dec qtr   1883    Stoke Newington
Ida Eugene                       Sept qtr 1885    Hackney District
Archie Eileen                     Dec qtr  1886     Hackney District
Myra Beatrice                   Sept qtr 1889    Hampstead District
Ruby Cecile                       Dec qtr  1891    Hampstead District
Olive Christine                  Sept Qtr 1894    Brentford District
Violet Beryl                       Dec qtr  1898     Hampstead District
Horatia Vera Elouisa Stuckey
Vera was born in 1883 in Stoke Newington and died 20/01/1968 at 'Long View' Little Gypps Canvey Island aged 84. She had been a private school proprietor. A sister Ida Eugenie Stuckey was present at her death. She appears to have lived at 'Veronica' 12 Kitkatts Farm Road Canvey before then.
Ida Eugene Stuckey
Ida was born on 2nd June 1885 in the Hackney District. In 1968 she lived in 40 Mayland Ave Canvey. She died in 1970.
Archie Eileen Stuckey

Archie was born in the 8th October 1886 in the Hackney district. When she died (testatrix 22/12/1975) around Dec qtr 1975 she left 16 Rayment Ave Canvey to Winnie Capser. Archie owned most of the land between Rayment Ave & Roserna Road with her sister Ruby. Here I understand they ran their kennels.
Ruby Cecile Stuckey
Ruby was born in the Dec qtr of 1891 in the Hampstead District and died before Feb 1974. In 1921 she was given a 'Home Doctoring of Animals' book. As said above she owned most of the land between Rayment Ave & Roserna Road with her sister Archie where they had their kennels. I believe they were members of the 'English Springer Spaniel Club'. Apparently they would be seen regularly walking their dogs down Maurice Road.
Olive Christine Stuckey
Olive was born in the Sept qtr of 1894 in the Brentford district. She lived at 16 Rayment Ave (inc 1971) and sold "Rowan" 3 Hawthorn Road Canvey in 1961 – She had lived there in 1943 I believe with Miss Lane. Olive worked at Canvey-on-Sea Post Office in Leigh Beck in the 1960's with Rosa Webb. Olive was Baptised 20/01/1899, confirmed & had her first Communion Dec 1910. She died before March 1991 still living at 16 Rayment Ave which was then sold by the Salvation Army.
Violet Beryl Stuckey
The youngest sister, Violet was born in the Hampsted district on 8th November 1898. She died at the young age of 42 on 8th March 1941 with a sister present (Ida?) at "Dykeland House" 16 Rayment Ave. She was a Drapers Window Dresser. Jan has found her grave in St Katherines Church in Canvey Village – See the Photo (left).
I have a receipt for a bungalow built in 1922 at Weirum Ave for £170, apparently for Violet & Olive Stuckey. I can find no trace of a Weirum Avenue but it is almost certainly the bungalow featured in the Photograph album featured below titled "Canvey Island Whitsun 1922".  Studying these Photos I have identified a bungalow in Westerland Avenue and from this I now believe their bungalow was built on the square of land between Westerland Ave (to its north), Yamburg Road (then called Kornwert Road) to its east, and the unamed road to its west – perhaps this unmade road was to be Weirum Ave? I have seen Westerland Ave called Westenmoreland Ave in an old Post Card.
If you can identify any of the people or places below like the Tennis Courts please leave a message below. Click on the images for larger sizes and descriptions.
______________________
Update on our research into the Stuckey family
Myra Beatrice Stuckey
Myra was born in Stoke Newington in 1886 just before the family moved to Hampstead. No papers relating to Myra or any association with Canvey were found in the box of documents during the initial sorting.
It has since been found that Myra had in fact married Joseph V Wilson in 1919 in the Wandsworth District of London, making her the only Stuckey sister to marry.
More about the Stuckey Sister's Ancestry can be found HERE