Albert David Noble and Sarah Ada Andrews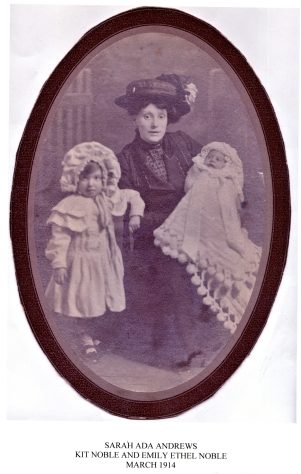 My maternal grandmother was Sarah Ada Andrews. She was born in Tottenham, North London in August 1881. In 1903 she married my grandfather, Albert David Noble, (born 1876), who served in the Boer War as a farrier/blacksmith and was later to become gardener to Mr. George Chambers at his home "Maisonwyke" where his beds of tulips were much admired.  He died in 1948 and was interred in the churchyard at St Katherine's. When Gran died in 1971 she was interred with my grandfather.
Gran had a very hard life. She started work before the age of ten but what little education she had she more than made up for with her exceedingly loving and caring ways.
In 1927 she took her six daughters to Canvey for a holiday. Upon returning home she informed her husband she intended moving to Canvey where the air was cleaner and it would be a better life for her children. Initially Grandfather demurred but later capitulated and so the move to the Island was made in either 1927 or 1928.
Gran arrived first with her girls and rented a ramshackle bungalow at Sunken Marsh where, having very little in the way of belongings, they slept in their coats on the bare floorboards. The family was later to move to a bungalow in Rainbow Road where, as previously, there was no running water, gas or electricity. Eventually a permanent move was made to 12 Ellesmere Road.
It became widely known on the Island that Mrs. Noble could be called upon to nurse the sick, help women giving birth or to lay out the deceased. That task would later fall to her eldest daughter, Ada Elizabeth, who trained as a St. John's Ambulance nurse, and who Islanders knew as Nurse Andrews.
A little point of interest: My Gran also babysat and looked after Estate Agent Johnny Fisk when he was a toddler.
All my Gran's six daughters stayed on the Island, married and had children .