The photo below is of Alice Bell nee Hawkes and is thought to be taken on Canvey Island.
Alice Bell was the daughter of Charles and Louisa Jane Hawkes. Louisa Jane died in 1941 her death registered as Chelmsford and buried in St Katherines Churchyard. Her husband had died some ten years before with no connection to Canvey. The couple had eleven children.
The archive has no record of the family on the island at this time but as can be seen from the memorial card Louisa was definitely buried here and we have identified her grave.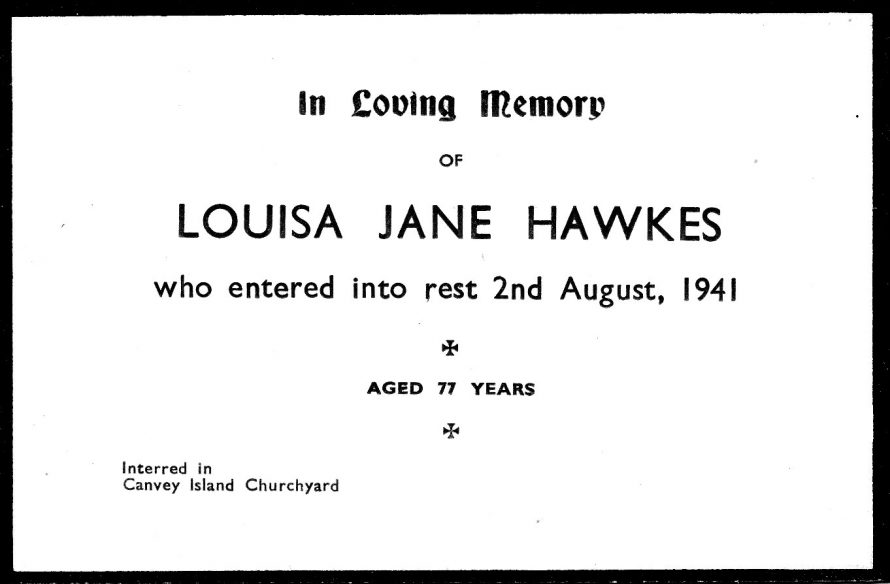 We do know that at least two of her daughters were living on the island. Edith, born 1886 in Stoke Newington, North London, married Charles Howard Beeching, he died in 1944 and is buried in St Katherines. Alice born 1890 married Ernest Bell in 1914. Their daughter Queenie born 1920 in Hackney, was living at 16 Meynell Avenue, Canvey when she married Maurice Gough in 1945.
Was this the home of Alice Bell? Was this the bungalow in the photo?
The name above the door is not very clear. Looks like six letters possibly 'P___IT'.
Is this ringing bells with anyone? Please comment below and help relatives Jan and Mary Anne find out about their family.