This postcard has Grandpa Noble, Canvey Island written on the back.
But who is Grandpa Noble?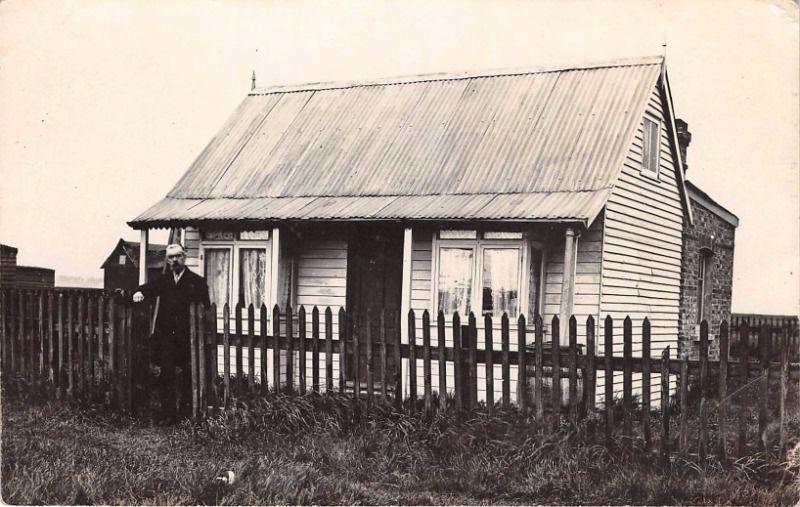 So what do we know?
The postcard is dated after 1902 as it has a divided back. No other clues there.
Using the picture to date it is also not that easy. Men's fashions are not as easy to follow as womens in the early 1900s. The man 'Grandpa Noble' is wearing a typical black or dark jacket and the definite 'must have' Edwardian moustache.
The building is typical Canvey bungalow with corrugated roof dated from the same period. The area surrounding does not give away anything about the location.
One other piece of important information I have found is that in 1905 a Mr R Noble was granted planning permission to add a brick extension to a timber building in London Road, Canvey Island. Well we seem to be getting somewhere.
After 1902, after 1905 and typical Edwardian clothes and moustache. So I would date the picture/card c1910.
But who was Grandpa Noble? We have R Noble on the planning application and a James Noble in the 1918 Electoral Roll. James Noble is stated as a non-occupier at Cranbrook Villa, Leigh Beck and his abode was stated as 145 Armagh Road, Bow.
This is I believe the correct family that is associated with the bungalow but I have not been able to find out anymore about them. There is also the family of Albert David Noble who with his wife came to the island around 1930. I am in touch with them but so far we have not been able to connect the two families.
If anyone knows anything to helps us identify Grandpa Noble or the bungalow that was in London Road please comment below.