Canvey Islanders take to the boats
Protest against the oil refinery 1973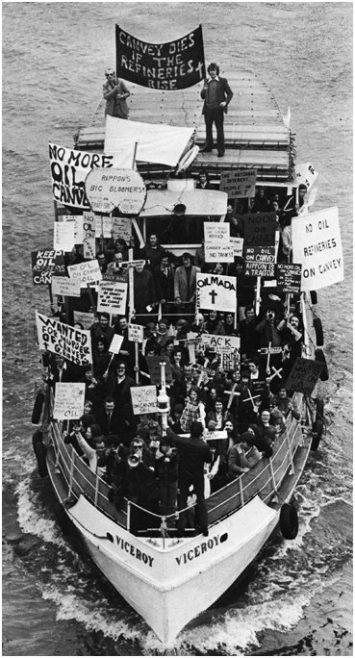 In the 70's Occidental were building a refinery to the west of Canvey.  I understand it was part of the deal that they built the new road off the Island 'Canvey Way'. Land down Northwick was sold for the refinery and Northwick Road itself was widened to make way for tankers.  But Canvey Islanders would have none of it.
This picture was lent to us by Robert Hallmann who featured it in his book 'Canvey Island: A History'.  His caption reads:
  In 1973 demonstrations came to a head when the 'Oil Mada' took to the water with banners and posters and 'graveyard' crosses on the Viceroy protest boat. Eventually demands changed and fewer installations were needed. Occidental had spent £65 million, of which £10 million went on the longest jetty in Europe at a mile in length. It was never used. The United Refineries' land was also left unused.
I believe the protestors boarded the boat at Tilbury, they went up to London taking a petition to Downing Street. I also understand Wilko Johnson was part of the demo.
Can anyone tell us more?