Protestors March
on 'danger' oil depot
14th June 1974

Four Hundred marchers braved a thunderstorm on Sunday to deliver a protest letter to the London and Coastal Oil Wharves depot on Canvey.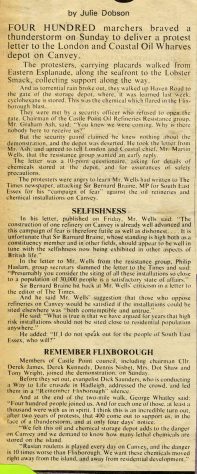 The protesters, carrying placards walked from Eastern Esplanade, along the seafront to the Lobster Smack, collecting support along the way.
And as torrential rain broke out they walked up Haven Road to the gate of the storage depot, where, it was learned last week, cyclohexane is stored. This was the chemical which flared in the Flixborough blast.
They were met by a security officer who refused to open the gate. Chairman of the Castle Point Oil Refineries Resistance group, Mr. Graham Ash, said; "You knew we were coming. Why is there nobody here to receive us?"
But the security guard claimed he knew nothing about the demonstration, and the depot was deserted. He took the letter from Mr. Ash and agreed to tell London and Coastal chief, Mr. Martin Wells, that the resistance group wanted an early reply.
The letter was a 10-poinl questionaire asking for details of chemicals stored at the depot, and for assurances of safely precautions.
The protesters were angry to learn Mr. Wells had written to The Times newspaper, attacking Sir Bernard Braine, MP for South East Essex for his "campaign of fear" against the oil refineries and chemical installations on Canvey.
Selfishness
In his letter, published on Friday, Mr. Wells said: "The construction of one refinery on Canvey is already well advanced and this campaign of fear is therefore futile as well as dishonest. … It is unfortunate that Sir Barnard Braine, whose standing is high both as a constituency member and in other fields, should appear to be well in tune with the selfishness now being exhibited in other aspects of British life."
In the letter to Mr. Wells from the resistance group, Philip Haslam, group secretary slammed the letter to the Times and said: "Presumably you consider the siting of all these installations so close to a population of."10,000 people is a satisfactory state of affairs."'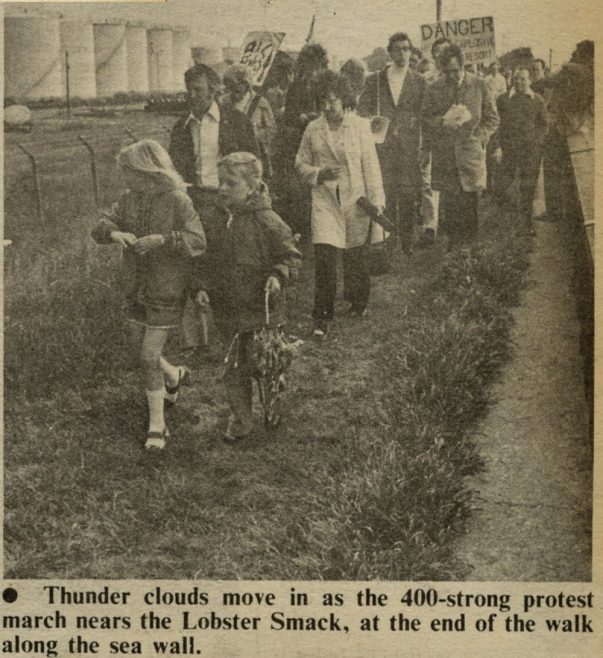 Sir Bernard Braine hit back at Mr. Wells' criticism in a letter to the editor of The Times.
And he said Mr. Wells' suggestion that those who oppose refineries on Canvey would be satisfied if the installations could be sited elsewhere was "both contemptible and untrue."
He said: "What is true is that we have argued for years that high risk installations should not be sited close to residential population anywhere."
He added: "If I do not speak out for the people of South East Essex, who will?"
Remember Flixborough
Members of Castle Point council, including chairman Cllr. Derek James, Derek Kennedy, Dennis Nisbel, Mrs. Dot Shaw and Tony Wright, joined the demonstration, on Sunday.
Before they set out, evangelist Dick Saunders, who is conducting a Way to Life crusade in Hadleigh, addressed the crowd, and led them in a 'Remember Flixborough' silence.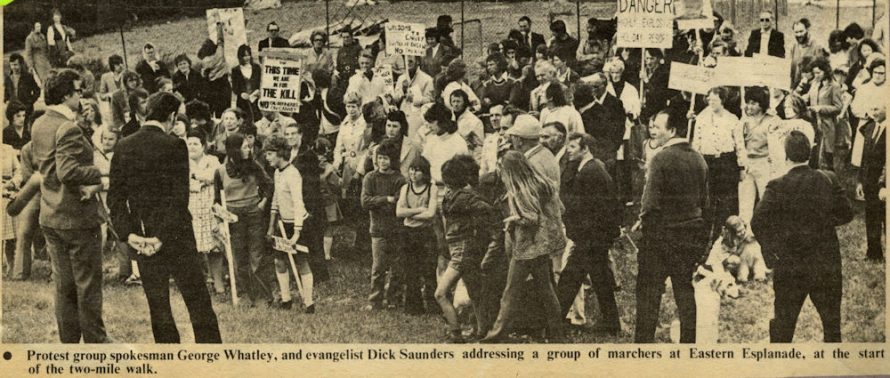 And at the end of the two-mile walk, George Whatley said: "Four hundred people joined us. And for each one of those, at least a thousand were with us in spirit. I think this is an incredible turn out after two years of protests, that 400 come out to support us, in the face of a thunderstorm, and at only four days notice.
"We felt this oil and chemical storage depot adds to the danger on Canvey and we demand to know how many lethal chemicals are stored on the island.
"Rusian rouletts is played every day on Canvey, and the danger is 10 times worse than Flixborough. We want these chemicals moved right away from the island, and away from residential development."