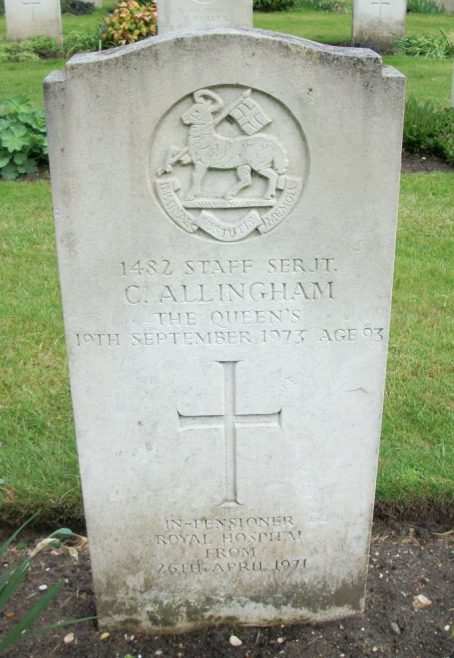 Clement Allingham (sometimes referred to as Charles or Chas) was born in Copthorne, Sussex in 1879 to Jacob and Eliza.
He enlisted in The Queens in 1898 and completed 21 years of service taking him to South Africa from 1899-1902. He was in Cork around about 1908 and it was here that he married his wife Annie Madge in 1910.  He served in France during the 1914-1918 war. During his service he was also in the Military Police. He was finally discharged in 1919. According to his records in 1898 he was 5' 7¾", of dark complexion with brown hair and hazel eyes.
The couple are registered as living in Kensington in 1920 but sometime between then and 1925 they moved to Canvey Island.
Clement Allingham lived at the 'Corner House' with his wife Annie. He is in the Kelly's Directory for 1925/26 as Chas. Allingham then later 1929/1933 as Clement as a Tobacconist and Confectioner as we can see from the photo below. His shop was on the corner of Seaview Rd.
The couple leave the island before 1939 as they are registered then in Chailey, near Lewes in Sussex. During 1959-62 they are registered in Willesden. After Annie's death in 1970, Clement became an In-Pensioner at the Royal Hospital, Chelsea where he died in 1973. He is buried at the Brookwood Cemetery in Woking, Surrey in the Royal Hospital Chelsea New Plot.