Garnet Frederick Hester
6th Battalion Rifleman aged 16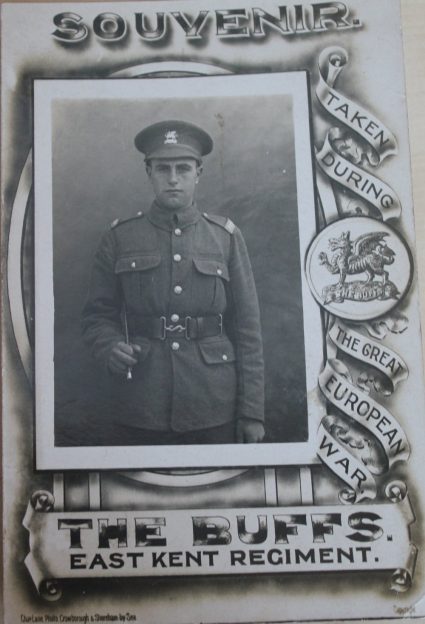 Garnet Frederick Hester was the grandson of Frederick Hester the man who wanted to make Canvey Island a rival to Southend.
He was the son of Frederick snr's eldest son Frederick William Brewster who worked with his father on his Canvey project and continued to live here long after his father went bankrupt.
Garnet was born in Pitsea in 1899, the family must have moved to Canvey soon after his birth because Frederick WB and his family are on Canvey in the 1901 census at 'Sea View', Leigh Beck. By 1911 they were living at 'St Omar', Winter Gardens. Frederick FW died in 1911 and is buried in St Katherine's Churchyard.


On the 19th February 1916 when Garnet was still just sixteen he enlisted with the 6th Battalion Rifle Brigade stating he was 19 years and five months and gave his address as 17 Burdett Avenue, Southend. On his Medical Examine papers he is said to be just 5ft 3 ½inch. He does give his mother's name and address on Canvey as his next of kin.
His clothes were apparently sent to his mother or at least from the correspondence we have seen, someone's clothes were sent to her, which is probably when she found out what her son had done. She then contacted the Battalion. She was asked to supply a copy of his birth certificate which she did and was told he would have to supply some plain clothes and sufficient funds to get home before he could be discharged.
He was discharged on the 15th March 1916 less than a month after he enlisted.
It looks as if he eventually joined the East Kent Rifles and on to the Queens Rifles as there is a Medal Card in the name of Garnet F Hester but no further papers are available.
Garnet survived the war, he was still living at 'St Omar', Winter Gardens in the 1929 Electoral Roll. He married Marjorie F Kay in 1931 but this appears not to be on Canvey but still in the Rochford District. The couple are recorded as living at 'Llamberis', Richmond Road in Benfleet in the Register of 1939. No children recorded. He died in 1968. It does not look as if the couple had any children.
What happened to his mother? Widowed in 1911 with two sons. The eldest, Victor, emigrated to Freemantle in 1913 at the age of 15. No wonder she did everything she could to get her youngest son back home. Did she remarry? Yes she did. In 1916 she married widower John Lines of Tilbury in St Katherine's Church and she continued to live at 'Omar' in Wintergardens until at least 1929. She died aged 79 in 1953.
More about brother Victor Leslie Hester 
Click on the gallery below to see some of his records
If anyone knows anything about Garnet please contact us or comment below.