Private Robert J H Monteith
1892 - 1918
Private Robert J H Monteith was born in Acton in 1892 son of Robert and Jessie Monteith. There is a Robert Monteith on the Electoral Register at 10 Grafton Road Acton in 1910, presumably his father. Robert jnr was a visitor at Eversholt, near Luton, in the home of Benjamin Wild a Schoolmaster in the 1901 census. Whether he was related to Wild or not we do not know.
He was a licensed Lay Preacher and he ministered in St Anne's Church Canvey Island before he enlisted. A wooden memorial to him was recently found at St Anne's and has now been restored and re-hung on the wall in St Anne's hall.
It would appear he is also commemorated on the Penkhull War Memorial in Stock on Trent but so far I can find no connection there. The memorial is located in the parish church of St Thomas the Apostle so perhaps he preached at this church before he came to Canvey.
Robert joined the Essex Regiment. He was killed in action on the 6 Sept 1918. He was buried at Fins New British Cemetery, Sorel-Le-Grand at The Somme, France.
A Miss Harker asked that 'Dearly Love Then and Now' be put on his headstone. Perhaps a sweetheart. His effects were passed to his father Robert.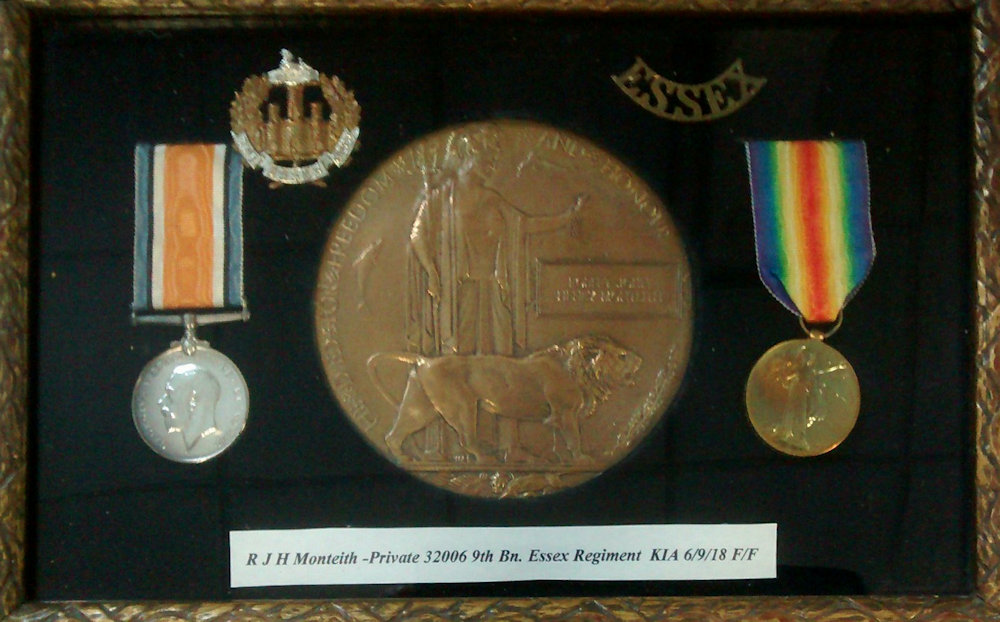 Robert's Grave is to the left of the cross and the second group coming this way
The memorial is located in the parish church of St Thomas the Apostle
Robert's name is toward the top