An Excerpt from WW2 Diary of H.J. Vale
'Jean Gibbins. WW2 People's War'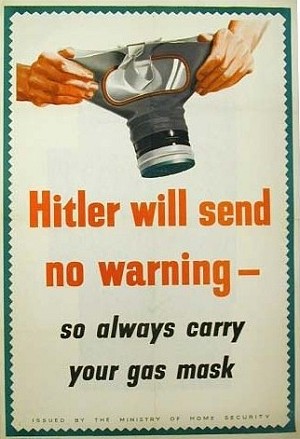 It came as a shock to us to see lorry loads of soldiers suddenly drive along the promenade, on to the beach and hurriedly commence filling sandbags. It came as an even greater shock when a young officer anxiously strode among the reclining holidaymakers to ask if they would join in and help. A request that brought the realisation that this was no beach game and that it looked now as if our worst fears were about to be confirmed.
We were taking our annual holiday later than usual in the summer of 1939 and had been blessed with an unusually fine spell of good weather. We had left home the previous week in an uneasy atmosphere of anticipation. Rumours of war were in the air and an issue of gas masks had been made to all the civilian population.
Everyone expected that if the war did break out it would commence with an all out gas attack, which would kill off most of us at once, but somehow we did not think war would come. Our newspapers had regaled us for months with stories of the might of our armed forces, the strength of our Naval defences, the wonderful tanks and other weapons of our modern Army, our invincible Air Force, until most of us began to think that if Germany ever went to war with us, she would be knocked out in less than no time. How we thrived on propaganda!
During our week at Canvey Island we were slightly out of touch with the latest moves. It was quiet and peaceful, just the right atmosphere for holidaymaking. That was until those khaki clad soldiers invaded the beach!
The sight of the perspiring Tommies and the swimsuited holidaymakers, filling sandbags and loading them on to the lorries, was just a little bit of a rude awakening which brought back the uneasy feeling we had endured before we had set off on our holiday.
On our return journey home by car, we had to pull up for a huge Army convoy to pass by. It was a long line of A.A. guns of all types. With Bren gun carriers, ammunition lorries and steel helmeted troops, looking grim and serious. The lorries were marked ADGB – Air Defence of Great Britain.
On our arrival home we found that the local authority had delivered all the necessary parts of an Anderson shelter. With help from a neighbour, the huge hole was dug and the shelter was installed within a few days.
The situation was worsening and the government decided it was time to evacuate women and children from dangerous areas. Dagenham was considered to be one of the most vulnerable areas because of the proximity of the huge Ford plant and for being closde to London.
It was decided that my wife and the three youngest children would be evacuated. Our three teenage daughters , who were working, would stay at home with me.
On Thursday, August 31st1939, we received an urgent notice that the evacuation would take place at 6 a,.m. the following morning, 1st September, 1939. We were to assemble at the local school. Each child had a label pinned on to their coat showing their name, address and school.
The evacuees were sorted into parties of fifty and I accompanied my family to Ford's Motor Works by the riverside, where hundred of women and children were in a long procession which led down to the riverside jetty.
Several large Thames paddle steamers, the "Royal Sovereign", the "Yarmouth Belle", the "Golden Eagle" and others, were moored to the quayside and about to be engaged in the most unusual ask of recent years. They were to transport the evacuees from Dagenham and surrounding areas to unknown destinations.
WW2 People's War is an online archive of wartime memories contributed by members of the public and gathered by the BBC. The archive can be found at www.bbc.co.uk/ww2peopleswar