The first name on the Canvey WW2 Roll of Honour, which currently hangs in St Nicholas Church, is C.C. Alcindor, Cpt. Beds & Herts.
I could find no mention of him on the Commonwealth Graves Commission website but found a death for him in 1946 in the Stepney District of London. Who he was or what his connection to Canvey was no one could tell me. Thanks to my connections with Find a Grave and with my own research some of the answers were found.
Cyril Charles Alcindor was born in 1914 in the Paddington area of London. He was the second son of Dr John Alcindor and his wife Minnie A C Martin. Dr John Alcindor was quite well known in his time, born in 1873 in Port of Spain, Trinidad, son of Francis Alcindor a cocoa planter, he won an Island Scholarship and attended Medical School at Edinburgh University, graduating in 1899. (Click on their names for more info)
Dr John Alcindor worked in several London Hospitals before establishing a medical practise in Paddington about 1907. He can be found in the BT Phone books at 23 Westbourne Park Road W2 from 1919-1924 as a Medical Practitioner. He married his wife Minnie Amy Clara Mary Martin in 1911, daughter of Louis Martin. The couple had two other sons, John Francis 1912-1993 and Roland Patrick Boyce 1917-1991.
During his career he was published for his research into influenza, cancer and tuberculosis. He was secretary of the Poor Law Medical Officers' Association, member of the National Council for Combating Venereal Disease, the American Anti-Tuberculosis Society and the Catholic Doctors' Society. John was also awarded the Red Cross War Medal for his work with wounded soldiers returning to London during WW1. He was instrumental in the formation of the African Progress Union (APU). He died on the 25th October 1924 in St Mary's Hospital, Paddington after a long illness. He was buried at St Mary's Cemetery, Kensal Rise. Minnie died in 1961 her death is registered in the Ilford District. She was possibly living on Canvey after the death of her husband. We have been told that the singer Paul Robeson came to stay with the family on Canvey. This has been reported to us from more than one source.
John and Minnie's son Cyril Charles married Jessie Ruby Eves (b1912-1978) in Gravesend, Kent in 1939. I believe they had a daughter, Joan, born in 1942 in Gloucestershire. Their son John F Alcindor was born in 1944 on Canvey.  Cyril's brother John Francis was also living on Canvey. He had married Evelyn G Carter in the Canvey area in 1945. They had two sons and two daughters born in the area. Roger C (1947), Rosemary C (1947-1947 Roger's twin who died shortly after), Peter R (1951) and Barbara L (1955).
Cyril was a Captain in the Beds and Herts. Regiment. He was a soldier from the 1930's, taking part in the invasion of France in 1944. He was appointed a 2nd lieutenant on the 24 March 1944, as a Captain after the war he was one of two officers who interviewed new National Servicemen finding suitable placements for them. He died in 1946 and his death is registered in the District of Stepney, London. He is buried with his father at St Mary's Cemetery, Kensal Rise, Paddington.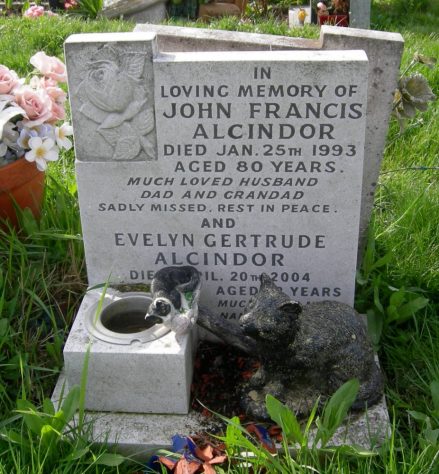 Cyril's brother John Francis (known as Frank) lived on Canvey until his death in 1993. He is in the BT Phone book of 1950-54 living in the Driveway, later moving to the Vicarage Close until his death. John's ashes along with Evelyn's, his wife, are interned in St Katherine's Churchyard. The other son Roland was living in London.
I have been told by several sources that Paul Robeson, the famous singer visited the Island and stayed with Alcindor's. It would be interesting to have more details.
~~~~~~~~~~~~~~~~~~~~~~~~~~~~~~~~~~~~~~~~~~~~~~~~~
If anyone has more details about the Alcindor family particularly relating to Canvey please comment below.