Island policeman used to call to play our piano for troops
Memory of J Brazier in Local Paper 1989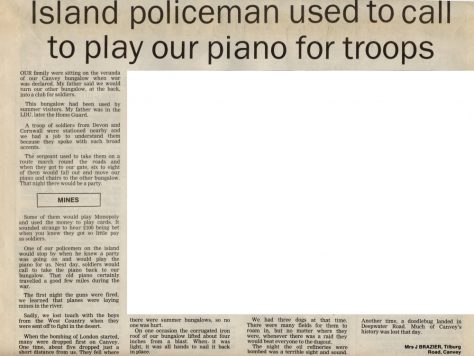 Our family were sitting on the veranda of our Canvey bungalow when war was declared. My father said we would turn our other bungalow, at the back, into a club for soldiers.
This bungalow had been used by summer visitors. My father was in the LDU, later the Home Guard.
A troop of soldiers from Devon and Cornwall were stationed nearby and we had a job to understand them because they spoke with such broad accents.
The sergeant used to take them on a route march round the roads and when they got to our gate, six to eight of them would fall out and move our piano and chairs to the other bungalow. That night there would be a party.
Some of them would play Monopoly and used the money to play cards. It sounded strange to hear £100 being bet when you knew they got so little pay as soldiers.
One of our policemen on the island would stop by when he knew a party was going on and would play the piano for us. Next day, soldiers would call to take the piano back to our bungalow. That old piano certainly travelled a good few miles during the war.
The first night the guns were fired, we learned that planes were laying mines in the river.
Sadly, we lost touch with the boys from the West Country when they were sent off to fight in the desert.
When the bombing of London started, many were dropped first on Canvey. One time, about five dropped just a short distance from us. They fell where there were summer bungalows, so no one was hurt.
On one occasion the corrugated iron roof of our bungalow lifted about four inches from a blast. When, it was light, it was all hands to nail it back in place.
We had three dogs at that time. There were many fields for them to roam in, but no matter where they were, whenever there was a raid they would beat everyone to the dugout.
The night the oil refineries were bombed was a terrible sight and sound.
Another time, a doodlebug landed in Deepwater Road. Much of Canvey's history was lost that day.