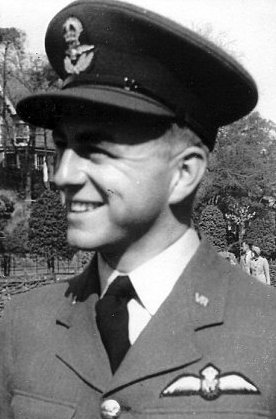 We have just found out that a Canvey Hero has died aged 91 in South Africa. His name Leslie Brodrick you may remember him. He was one of the survivors from Stalag Luft III immortalised in the film 'The Great Escape'.
He came to Canvey to teach at Leigh Beck School after the war until sometime after the floods of 1953. We are looking into his life on Canvey and hope to add to his story later. If you remember him and can add anything to his time living on Canvey please comment below.
We have been given permission to publish this article by Shelly Lawrie a South African journalist who interviewed Les a few years ago.
~~~~~~~~~~~~~~~~~~~~~~
Sixty-six years ago, in one of the most daring and bold escapes from a Prisoner of War camp, Scottburgh's Leslie Brodrick, (now 88), one of 15 survivors, recalls the event and consequences. A Royal Air Force, Flight Lieutenant for 106 squadron, Brodrick, 22-years-old, was shot down. He crash landed near Amiens on his Stuttgart raid return flight. He was taken to Dulag Luft for interrogation, then to Stalag Luft III in Sagan, an airforce Prisoner of War camp run by the Luftwaffe.
South African born Squadron Leader, Roger Bushell was the master-mind behind the audacious escape plan at the camp, and Brodrick was recruited immediately. Numerous tunnels had been dug but were found by the Germans. Bushell's plan consisted of three tunnels, 'Tom', 'Dick' and 'Harry' being dug simultaneously. His aim was to have 250 men escape and spread chaos in Germany. Of all three tunnels, 'Dick' had the most ingenious trapdoor. Situated in block 122, the washroom, the tunnel entry was concealed in the sump. Water had to be removed, and the modified concrete slab put in place and sealed with a mixture of clay, soap and cement. Broderick was appointed 'trapfuhrer', meaning he was responsible for the entrance to 'Dick'. He had to unseal the slab for the 'diggers' then seal them in again and keep watch. After 'Tom' was discovered and 'Dick' abandoned after a prison compound was constructed in its path, all efforts were concentrated on 'Harry'. 'Dick' was used as storage for all contraband.
On the evening of March 24, 1944, 200 men hoped to escape through 'Harry'. The tunnel, 8.5m down, to hide any tunnelling sounds that buried microphones might pick up, and about 102m long, had electrical light, a ventilation system and a railway track with three haulage points and carts. Things did not go according to plan. Firstly, the exit trapdoor was frozen shut. After opening it, it was discovered the tunnel was well short of the pine-forest tree line. Due to an air-raid on Berlin, all camp electricity was turned off. With the tunnel exit only 27m from the nearest guard tower, a plan was hatched. A length of rope was strung from inside the tunnel to a person just behind the tree line. A series of tugs were used to signal "the coast is clear".
Experienced escapees, German speakers and those that contributed the most to the operation, were first on the list. The rest of the men drew lots, Brodrick was drawn at number 52. In complete darkness, Brodrick made his way to the tunnel exit, he hit a snag at the exit ladder as his legs could not bend to climb up. He got out by hauling himself, hand-over-hand for the last 8.5m. Once free of the camp, Brodrick and two others, Henry Birkland and Denys Street, did not progress very far. For three days, travelling at night only, soaked and freezing, Brodrick and Street decided to find shelter as Birkland was 'in a bad way'. Spotting a cottage, the three, street-fluent in German, decided to try their luck by "spinning a yarn" to the occupants of the cottage. Unfortunately, the occupants were German soldiers. The three were arrested, taken to a local police station and then to Gestapo head quarters at Gorlitz for interrogation. Brodrick said he recognised the Gestapo as they "dress in leather coats just like in the movies".
He was then returned to Stalag Luft III. On arrival he discovered Hitler had ordered 50 of the escaped 76 to been shot, Street was one of them. The men under pretence, individually or in pairs, were told they were being moved to another location. On the "trip", German soldiers would stop the vehicle, either for the men to relieve themselves or 'stretch their legs', and when their backs were turned they were shot. The excuse given for their 'execution' was that they had been trying to escape. Of the 76 escapees, three evaded recapture.
On January 27, 1945, Stalag Luft III was evacuated due to Russian forces approaching. Broderick and many others were marched in sub-zero temperatures, westwards to Spremberg. Once there they were loaded into cattle trains, destination Marlag Nord in Tarmstedt. The British corporal in charge of the prisoners refused to stay at the Marlag camp, condemned by the Red Cross as unfit and unsanitary.
Eventually Brodrick and the others ended up on a tobacco plantation near Lubeck. Here they were liberated on May 2, 1945, by British troops in open trucks shouting, "you're free!".
During the march they were shot at by a Royal Air Force spitfire, until the pilot realised they were not the enemy. Broderick also witnessed concentration camps with "skeletal Jews and the systematic slaughter of them". At one location the prisoners were given a shower, and they thought they were to be gassed.
Brodrick was flown home to Canvey Island, England in a Lancaster, one from his old squadron. After tidal wave flooded Canvey Island in 1953, Brodrick and family came to South Africa in 1956, and moved to Scottburgh in 1963.
See more here.