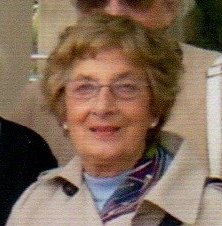 In September 1939 when war was declared, life was very different to today. Very few people had cars or telephones, there were no computers, television or mobile phones.We didn't have central heating in our houses or hot water, only an open fire or stove which burnt coal and wood. Mums didn,t go out to work because there were no fridges , freezers, washing machines or vacuum cleaners. So housework was much harder.
I was 7 years old when the war started in September 1939.1 lived on Canvey Island on the coast of the Thames Estuary about 40 miles from London. I lived with my Mum and Dad and my brother who was 4 years old and my little sister who was 2.1 went to a very nice school which was about half a mile away. We could go to the beach and play on my uncles farm. We were very happy.
My Auntie Nellie lived and worked in Paris and early in 1940 the German army invaded France and were getting close to Paris. My auntie managed to escape to Bordeaux and get one of the last boats to England. She came straight to Canvey Island from Dover as she thought the Germans would invade England in a few days and we lived on the coast. My two aunts and uncles and cousins lived nearby. Auntie Nellie said you must all leave Canvey at once and take the children into the country away from London and the coast where it would be safer.
So they rented a farm cottage in the village of Bloxham in Oxfordshire. Our Dada couldn't come with us because one was a farmer and my Dad was a fireman at Shell Haven oil refinery which was heavily bombed.
They hired a large furniture van and each family took some of their furniture, beds, tables, chairs etc. We couldn't take many of our toys and books because there was no room.
We set off one Sunday morning, one of my uncles came with us for the journey,he sat in the front with the driver. My Mum and brother and sister, my two aunts and three cousins and I all sat in the back of the van on a settee and some chairs. The tailboard was put up so we could see the scenery as we went along. Today it wouldn't be allowed to travel in the back of a furniture van, there were no seat belts so we ha d to sit very still. It seemed a long way to go and the driver lost his way several times. We took sandwiches and drinks for the journey.
At last we arrived at the farm cottage in Bloxhham only to find that the farmer, Mr.Biddle had let the cottage to some Airmen's wives and their children. So there we were late on a Sunday evening and nowhere to go. My uncle and the driver decided to drive to Banbury, the nearest big town. We went to the Police Station to see if they could help us. They told us to go and see a lady who was at church she belonged to the Quakers, the Society of Friends who are very good people. This lady lived in a large house with a lovely garden. Se said the house next door was empty and we could stay there for a few weeks. It was a lovely house called Dashwood Terrace, there was a long drive up to the front door The rooms were very large with great marble fireplaces and there was a big dark cellar. We must have looked a scruffy lot, tired and hungry after travelling all day. The van driver and my uncle fixed up our beds and the kind lady sent her maids round with hot water and food and helped us settle in.
We stayed there for a few weeks until she found us a house in Brackley a few miles away. This house had three bedrooms, a living room and a kitchen with a built in brick copper for doing the washing. You had to fill it with water and light a fire underneath
to heat it. There was no bathroom and the toilet was outside in the yard. At the back of the house was a yard and a row of stables where the Army officers kept lovely horses for riding. We used to play in the yard and Paddy, a young soldier who looked after the horses let us have a ride up and down the yard. There was a farm next door and we got to know the children who lived there.
I and my cousin Diana, who was about the same age as me had to go to school. There was an old school along the road. There were only two classes of mixed ages from 7 to 11 and about 45 in each class. The teachers were very strict and the headmaster would cane the boys in front of the class.
There was a separate register for evacuees and we were treated like strangers. They thought we had funny accents because we came from near London. We sat at long wooden benches with tip up seats. The teacher sat on a raised platform at the front by a large blackboard and easel. We had to learn our times tables and recite them all together. Luckily I could already read and write quite well, because I don't, think I learned much at the school. Some of the children had to walk several miles to school from the surrounding villages. Most of the children had never been out of Brackley, one boy I sat next to asked me what the sea was like.
My cousin Diana and I joined the Brownies, we went to the Methodist Sunday School along the road, we went for walks and picnics and sometimes watched black and white films at the Town Hall. We listened to Childrens Hour on the radio every day and our mothers listened to the news about the war. One of my aunts had brought her sewing machine and she made us coats and dresses from old clothes. It was difficult to get new clothes and you had to get special coupons.
My Dad could only manage to come to see us about once a month, he would always bring us nice things and he saved up his sweet ration. We only had 2 oz per week each.
Most food was rationed and difficult to get, you couldn't get any imported fruit like oranges, bananas or pineapple. At Christmas we had a nice time, our Mums saved up our rations and managed to make a Christmas cake and nice things to eat. My Dad made us wooden toys, he made me a lovely needlework box, which I still have today. We moved away to the country just in time, we missed the Battle of Britain and the London Blitz when hundreds of people were killed and houses blown up by bombs. We made some friends and were fairly happy but we missed our Dads and many things at home especially my old school.
After nearly two years thing quietened down and we decided to return to Canvey Island. There were still air raids and then the doodlebugs (flying bombs) and rockets which were targeted for London. I suppose I was too young to realise how dreadful the war was and I was so pleased to go back to my old school.
My Auntie Nellie joined the A.T.S. and became a sergeant major. After the war she went back home to her job and friends in Paris. I visited her many times over the years.