The Germans on Canvey c1943
Memories of Stan Pierce, Brisbane, Australia
This is a memory prompted by thinking of the way my mother reacted to German prisoners of war. She'd seen her house bombed and lost everything, and yet she felt sympathy for these Germans because they were away from their families. A peculiar female thing don't you think. It was published in the Canvey News. Canvey is a little Island on the Thames.
One day on Canvey Island during the war (about 1943) some dozen or so men turned up on the wall and were putting barbed wire all along the top of it. Big rolls of it stretched out like hoops. I got up there rubbernecking and spreading my goodwill to everyone. They were speaking in some funny language to each other. One man was on his own wearing a big overcoat and carrying a rifle. He was looking at the ground, smoking. Then he said something loud to the men, and they stopped working and sat around pulling cigarettes out. I waltzed right into them asking them why they were putting barbed wire up, and they fell about laughing.
They were German prisoners of war and were on this side of the fence. A lot of them spoke English and were very friendly to me. I was only 8. I had a bow and some arrows and one of the men said he would make me a much better weapon…my eyes lit up. He said to go and get a stick about 'so long ' and some string. I couldn't go fast enough. I found the stick that propped up the chicken house egg lid and some string in the drawer. " What are you up to" mum said. I always get sprung, never got away with anything. I said the Germans are going to make me a thing that flies for miles through the air. "Oh yes" she said. "Pick some apples off the tree and take them over."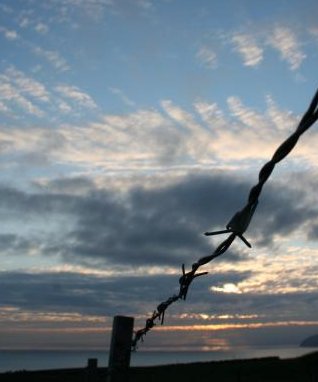 So I raided the Cox's Orange as far as I could reach and filled a big brown paper bag up and carried them over. "Oy!" said the overcoat with the gun, "come 'ere." He peered in and grunted something and let me give them to the men. This German takes the stick, and a penknife appears from somewhere and he sits in full view of the overcoat and pares away at this stick making it into this fascinating lethal weapon. I was enthralled. It had a lovely sharp tip, and the other end had a notch in it. The string was slightly longer and had a big knot near the end. So if you pressed the string in the notch and held the pointed end of the stick and the string in your hand you could hurl it for miles! It was a super duper sling-shot. Can you imagine being eight years old with a gadget like this? I ran to show Ginger. But it didn't last. I got sprung with it and had it taken off me.
Stan. Brisbane.